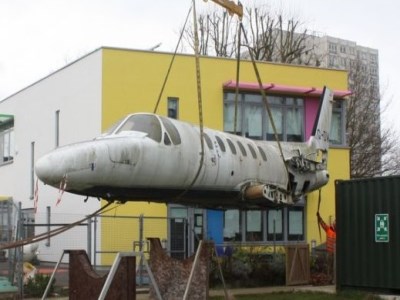 A UK school has found an unconventional way to both take care of overcrowding and give its students a radically new learning environment.
The primary school, located in the city of Essex, opened its coffers to buy a used Cessna jet and turn it into a classroom.
Claire Reynolds, business manager at Milton Hall Primary School, told the
BBC
that the school, which had limited space, was keen to find "an exciting and unusual way" to further engage its children and expand on their learning.
"Children, parents and staff are all very excited," she said.
The jet was first spotted by the school's media manager, Jon Baker, during a flying lesson at Southend Airport. He later arranged for the wingless fuselage to be winched into place in the school's grounds on Saturday, March 5.
"It had to be delivered by low loader and crane on Saturday lunchtime when there were no children around," Reynolds told
BBC.
The unique new classroom, which will be set up over the next two months, will hold 15 students when ready, and will include eco-friendly features such as solar panels and wind turbines.
"The aim is for the jet to generate its own energy by using solar panels and wind turbines," added Reynolds.
The school hopes that the unusual new classroom will provide an exciting, engaging learning environment for students. The school also plans to use the jet as an area for ICT, media and creative writing and reading.