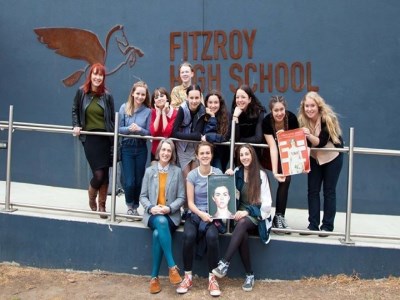 Victorian schools will soon have access to a new feminism curriculum called "Fightback", which includes about 30 lessons on systemic sexism, the objectification of women, and the link between gender inequality and violence against women.
The idea for the course was pioneered by Fitzroy High School's Feminist Collective, a group started by teacher Briony O'Keeffe and some of her students in 2013.
The Feminist Collective started as a lunchtime discussion group on feminism, but soon turned into an elective offered twice a week.
The course will involve students reflecting on their experience of objectification, deconstructing sexist cartoons, and debunking "hairy armpit" myths about feminists.
Other areas that will be explored will be statistics on the gender wage gap, violence against women, and female representation in sport.
"We're trying to get young men and women to think a bit more critically about the sorts of sexist behaviours they might either engage in or see on a daily basis," O'Keeffe told
The Age
.
"And on a teaching level, I wanted to create free, accessible curriculum for teachers who might want to talk about these issues but don't know how or where to start."
Last year, St Joseph's College in Geelong became one of many schools in Victoria to implement respectful relationships education for Year 9 students.
Respectful relationships education takes on many forms but the program St Joseph's rolled out was developed by the Centre Against Sexual Assault (CASA), an organisation strongly rooted in the feminist movement and founded 26 years ago to eliminate sexual violence.
The FightBack course launches at Fitzroy High School on November 26.