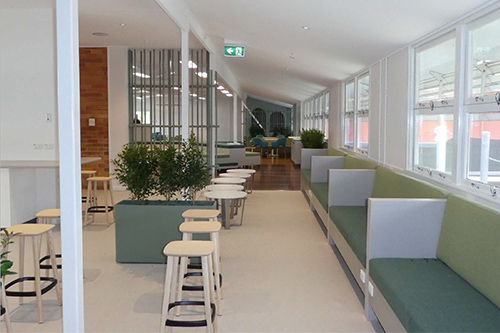 Remaining at school offers young people their best chance of success in life.
FlexiSpaces are a first-of-a-kind model in Australia that allows schools to create a more flexible in-school learning environment to help students remain at school and fulfil their potential in a mainstream educational setting.
This year will see the introduction of five new FlexiSpaces as part of the Queensland Government's plan to increase the number of young people engaged in education, training or employment to 91% by 2022.
Matt Newell, principal of Glenmore State High School, and Mick Hornby, Principal of Mabel Park State High School, piloted the FlexiSpace concept at their schools in 2018.
The Queensland Department of Education spoke to Newell and Hornby about their FlexiSpace experience and how such an approach led to success for some of their most at-risk students.
What is the FlexiSpace all about?
Matt: A FlexiSpace is a way of giving some students a different learning experience from what we offer in a mainstream classroom.
How is a FlexiSpace different from a mainstream classroom?
Matt: Like a mainstream classroom, a FlexiSpace has to offer a high-quality and inclusive educational setting. Without that, it really cannot achieve its aim of getting disengaged kids back into mainstream classrooms. Where it differs from a mainstream classroom is that a FlexiSpace creates a new physical space where students can experience flexible learning opportunities.
How did you implement your FlexiSpace?
Matt: First, we refurbished an area in the middle of our school with access to all our facilities and mainstream classes. Being inclusive is central to the FlexiSpace model and we wanted our students to feel immersed in our school community. Secondly, we focused on the quality of the teaching and curriculum delivered in the FlexiSpace. It was essential the students have access to mainstream curriculum and individualised learning options. Finally, we understood from the start that we needed to transition these students back into mainstream classes as soon as possible.
Are there any lessons for other principals from your FlexiSpace experience?
Mick: What I found really striking was that when we took students who had shown signs of disengaging and gave them a different experience of school, we saw their attendance lift. The students could see we believed in them and were willing to try something different to help them succeed.
Matt: It's important to understand that these students don't need a 'welfare program' and that's not what FlexiSpace is about. All the research I've seen suggests that if you set high expectations for students and give them high-quality learning experiences in a high-trust environment, they can succeed. Our FlexiSpace has given us the evidence that this approach really works.
What were the most notable challenges?
Mick: The first challenge was to make sure our school could meet the strict eligibility criteria necessary to implement a FlexiSpace. I also had to foster champions within the school to make sure we had the support and expertise to make it happen. We did not approach this as a program we were setting up as a 'sideline' to our mainstream classrooms. We saw this program as a signal to all our students that we'll do whatever it takes to support them to succeed at school because every student is a valued member of our school community.
Matt: FlexiSpaces are not magic. They take a lot of work and they're just one of many things schools can do to support disengaged students. Because the ultimate goal of a FlexiSpace is to integrate students back into mainstream classes, we had to make sure the teaching and learning delivered in our FlexiSpace reflected high-quality pedagogy and practice so those students would be well-equipped to return to their mainstream classes.
What was the most rewarding part of introducing a FlexiSpace?
Mick: Seeing the kids succeed and actually feeling proud of their FlexiSpace.
Matt: I agree. At our school, the FlexiSpace was regarded as new and innovative and this made the kids who were learning in that space feel special. Being a part of something seen as special gave them the confidence to believe in themselves.