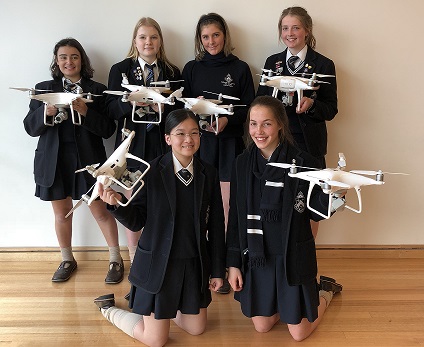 Six Year 9-12 students and one teacher from Melbourne Girls Grammar (MGGS) have attained their Remote Pilot's Licence, allowing them to fly drones for commercial work purposes.
As a part of the School's Student Enterprise program, which aims to empower students to enter a changing workforce, students had the opportunity to obtain the license, which involved extensive study and demonstrated mastery of concepts.
"Girls can do anything, especially when they have real examples within their communities of girls defying stereotypes," MGGS principal, Catherine Misson, told The Educator.
"Our initiative to offer a certified drone pilot course creates an environment in which our girls can enter a STEM field as equals, and experience the real world application of their learning."
Misson said that the school's newly certified female drone pilots are "STEM role models" who are actively demonstrating to their peers that STEM is "an amazing avenue for lifelong opportunities".
Of significant note is the achievement of Sophie Paterson, a 14-year-old Year 9 Melbourne Girls Grammar student, who is now the youngest female remote pilot in Australia.
"What motivated me to pursue the Remote Pilot's Licence course was the thought of having a qualification that not many other people have and one that offers significant future opportunities as drone technology is fairly new but a rapidly expanding field," Paterson said.
For Year 11 student, Olivia Perkins, the course was a revelation.
Perkins believes that taking part in the program inspired her to challenge preconceived notions that aviation is exclusively the domain of men.
"The percentage of female pilots at Australia's major airlines ranges from about four to nine per cent," Perkins said.
"Women make up as little as a quarter of the total STEM workforce. Soon, I aim to get my first commercial job involving drones, which could possibly extend into a full-time career."
Year 11 student, Isabelle Riccio, took up the opportunity as a "spontaneous decision to try something new" and reflected that the experience provided her with the opportunity to bond with her peers and opened her mind to broader career possibilities.
The students were joined by science teacher Garth Kates, who signed up to expand his knowledge of this rapidly expanding industry, and in the hope that in the future he would "introduce the knowledge gained to students to assist their futures in STEM".
Ivan Carlisle, Director of STEM at Melbourne Girls Grammar said the accomplishment represented the school's efforts to champion STEM opportunities that prepare students for the future of work.
"It is important that our programs go beyond simply ensuring university readiness, by engaging students with micro-credential opportunities, like the Remote Pilot Licence, that connect them with the future of work here and now," Carlisle said.
"We look forward to continuing to partner with The Institute for Drone Technology in the provision of such credentials and industry work placement opportunities."
Related stories:
Students note prepared for future – report
Survey highlights school curriculum concerns