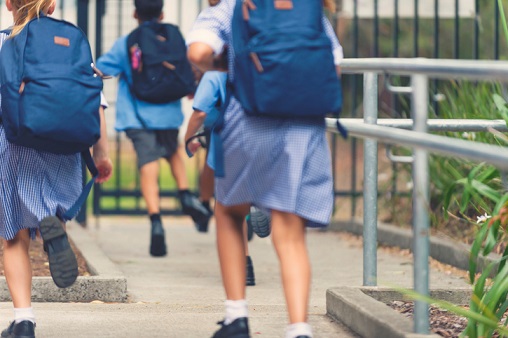 Queensland's Education Minister, Grace Grace, has announced that all Queensland state schools must offer more uniform choices for girls, including shorts and pants, from 2019.
The Department's updated Student Dress Code procedure follows an extensive review and consultation with stakeholders across the state.
At the beginning of the year, Minister Grace heard from students, parents and carers, who had been pushing for a change in uniform options to reflect community expectations.
Grace then asked the Department to update the uniform policy to ensure that all state schools offered the full range of options, including pants and shorts for girls.
"We know around 60 per cent of state schools are already offering these uniform options for girls, but we found that some schools had not updated their student dress codes in many years," Grace said.
"All Queensland girls should be able to engage in active play and classroom activities or ride their bikes to and from school without being restricted by what they're wearing."
Grace said state schools, together with their parent community, would now review their current dress code ahead of the 2019 school year.
"I'm happy to leave it to schools to decide what design, colour or style of uniforms should be introduced in consultation with their communities, including P&Cs," she said.
"I'm sure all schools will come up with new uniform options that best meet the needs of their students."
Executive Principal of Stretton State College, Jan Maresca, has already introduced changes to the school's uniform policy to include greater choice for girls.
"Following consultation with our whole school community, we found that around half of our primary school girls did not want to wear a skirt to school," Maresca said.
"We listened to our girls and made changes so they can be comfortable in their uniforms. Come into our school now and you'll see girls kicking a football, playing handball, lying under tree reading a book and hanging from monkey bars unrestricted."
Maresca said the changes to her school's dress code have been fully supported by the school community, adding that the girls themselves were heavily involved in the process.
Key stakeholders were involved in the statewide policy review, including P&Cs Qld, principals associations, Girls' Uniform Agenda and the Queensland Teachers' Union, and fully support the change.
Last year, WA schools changed the dress code for public school girls following a handwritten letter to the state's education minister from an 11-year-old.
As a result, every public school in the state will now allow girls to wear shorts and pants, rather than limiting them to only dresses, skirts or "skorts".
In New Zealand, a school abolished gendered uniforms, replacing them with shorts, a kilt and trousers that can be worn by either sex. The move came after several UK schools introduced 'gender neutral' uniform policies and South Australia announced that its public schools would adhere to a mandatory transgender and intersex policy from 2017.