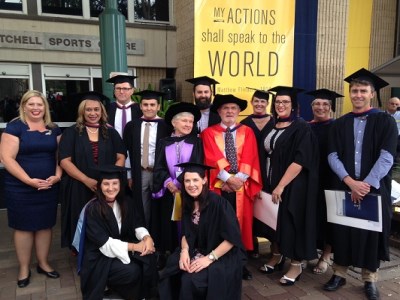 Flinders University School of Education was proud to graduate 15 students of the School's first cohort involved in the Masters of Education (Leadership and Management) specifically focussed on Rural Educational Leadership, on 19 April 2017.
The Rural Educational Leadership Scholarship (RELS) program commenced in 2014 and has been generously backed by the Origin Foundation and Principals Australia Institute.
The Origin Foundation is the philanthropic foundation of Origin Energy with an objective to support education, training, and development programs that have the power to transform lives and improve communities.
Under the RELS program for the Masters of Education (Leadership and Management), successful applicants were awarded a scholarship on the basis they would build educational leadership capacity in Australian rural schools and regional centres.
The current graduate cohort has included Principals and educational leaders from South Australia, NSW, Queensland and Victoria.
Many of the current graduates were already Principals placed in in rural schools, or seeking work in rural areas.
Thus the graduates for the Masters of Education (Leadership and Management) are not only current leaders in Australian rural schools, but individuals who have actively aspired to improve remote and rural education, with a demonstrated commitment to creating and building a better future for regional communities.
The role of the remote and rural Principal is a complex one, especially as it calls for leaders who can deliver executive management for their school, be a community influencer across their town or region and provide essential educational leadership for a learning environment to flourish.
There is also a depth of contemporary business skills –management, budgets, leading teams, team culture and site planning – which needed to be maintained and updated whilst fostering a student centred facility.
Principals and teachers in remote and rural school settings tend to find it difficult to collaborate and share experiences, as they can be physically isolated from a network of similar peers and colleagues.
The special cohort focussed on Rural Educational Leadership used both an intensive online forum and an on campus program to encourage an environment where geographically separated school leaders could come together to share thoughts and experiences and integrate theory and practice.
While this initially created a learning network for the program, it also generated strong links and relationships amongst Principals across Australia.
Mr Damien Keel is the Principal of Yarrawonga College (P-12), a large school in country Victoria with a strong emphasis on community connections between students, families, volunteers, community organisations and sponsors.
Mr Keel is one of the 2017 graduates and was successfully appointed to his position of Principal in 2016 after being an Assistant Principal and Prep to Year 4 Campus Principal at the college for ten years.
"You don't get taught how to think when you become a principal," Mr Keel advised
"After being a Principal for 16 years prior to the course, I believe that I have actually taken the time to reflect and learn more in the past two years than I have throughout my whole career."
The RELS program has generated a cross national network of rural school leaders and Principals, a rich and collaborative community which will continue to share the specific demands, and rewards, of a remote educational posting.
The RELS Masters of Education (Leadership and Management) will provide long term benefits for current and future educational leaders within Australia's country schools and communities. It also ensures there will be improved potential to attract and retain Principals to posts in rural, regional and remote schools.
The School of Education is currently exploring opportunities to expand the scholarship program and widen the breadth of options to other educational leaders and national cohorts.
Improving the preparation of Australia's Principals and education leaders will build better country communities, helping our rural sector to be ready for the future. Congratulations to all 15 graduates.