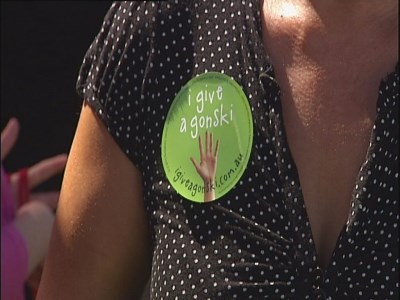 The Federal Education Minister,
Simon Birmingham
, is meeting with State and Territory counterparts in Adelaide today to determine the future of the beleaguered needs-based Gonski funding model.
Birmingham said the meeting today would be a chance for education ministers to indicate which areas of the Federal Government's proposed evidence-based reforms they could effectively cooperate on.
The Federal Government, as well as the Productivity Commission and the OECD, recently presented figures showing that additional funding to schools has not improved overall student outcomes.
Under modelling released by the Federal Government yesterday, Commonwealth funding for a hypothetical school — with a high percentage of disadvantaged students — differed by hundreds of dollars per child per year between states.
It showed that the school would receive $3,236 in NSW, $3,366 in Tasmania and $2,649 in Western Australia.
Battle looms over Gonski overhaul
Birmingham said he plans to replace the current model – made up of 27 separate patchwork agreements – with a "nationally consistent" model he says will be "distributed fairly and according to need".
"The Turnbull Government is determined to right this corruption," Birmingham said on
ABC National Radio AM
yesterday, vowing to replace the "special deals" that Labor Leader, Bill Shorten, made with the States and Territories in 2013.
However, Shorten hit back, telling reporters in Melbourne that the Federal Government was "telling another lie to justify them stealing money from schools".
"If the Liberals want a debate about education in this country and needs-based funding, bring it on," he said.
Birmingham's recent comments have revealed differences in opinion between some state education ministers, with South Australia's Susan Close calling Birmingham's "surprise" analysis of the Gonski model on ABC's AM radio yesterday "discourteous".
"We've had no paper presented to us and all we are left with is trying to glean what the proposition is by listening to programs such as yours," she told the station.
However, Western Australia's Education Minister,
Peter Collier
, said he was "delighted" that "at last we've got a [Federal] Education Minister who's talking about equity in the funding distribution".
A 'war over fairness'
There have also been concerns that some states may have their funding increased at the expense of others.
A new analysis by the NSW
Department of Education
claimed that the state's schools will face a funding cut of $400m from 2018 under the Federal Government's plans.
This prompted the NSW Education Minister,
Adrian Piccoli
, to declare a "war over fairness" accusing the Federal Government of abandoning public schools.
Meanwhile, Tasmania's Education Minister, Jeremy Rockliff, said the state's government would not accept any change that left Tasmania worse off.
"The Hodgman Liberal government is the strongest supporter of Gonksi and needs based funding," he said.
"In fact, in our analysis we are being short-changed by $14m under the current arrangement, and I will be going to Adelaide to fight for that additional funding."
Speaking on
612 ABC Brisbane
yesterday, Birmingham sought to explain the nuances of the funding differences, saying schools in areas of greater socioeconomic disadvantage would always get more funding.
Using Queensland as an example, he said the state's schools would continue to get more money per student than larger states like Victoria – and no cut to its total funding – even if the distribution model is changed.
"Queensland has more Indigenous students than Victoria, more regional and rural schools than Victoria, more areas or pockets of greater socioeconomic disadvantage," Birmingham told 612 ABC Brisbane yesterday.
"So that would naturally lead to a result that Queensland gets more funding under a fair, consistently applied funding model."