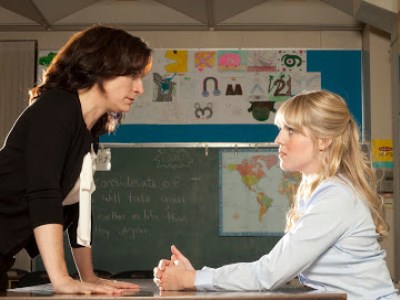 The ACT Education Directorate has outlined a first-of-its-kind policy to end occupational violence against teachers and principals.
Announcing the new Occupational Violence Policy and Management Plan yesterday, ACT Education Minister, Yvette Berry, said it "demonstrates and alerts the community that the safety of our staff is paramount".
The policy is a joint initiative of the Australian Education Union (AEU) and the directorate, and will apply to any incident linked to a school staff member's work, even outside of school hours.
Incidents could include abusive texts, social media messages, phone calls and any situation where a teacher or principal is threatened or attacked, verbally or physically.
The move comes as the ACT Government looks to employ a three-person specialist occupational violence team for schools to tackle rising incidents of violence and intimidation.
Between 2015 and 2016, more than 700 public school staff in Canberra reported being physically or verbally abused.
Berry said the new plan provides a future direction for staff about how the government will provide the skills, support, resources and culture required to ensure staff remain safe at work.
"While schools are rightly student centred, schools must also provide an environment where staff are safe and remain confident in their workplace," she said in a statement yesterday.
"The launch of this policy today demonstrates and alerts the community that the safety of our staff is paramount."
The union's ACT secretary, Glen Fowler, told The Educator that the most unique aspect of the policy was the strong level of cooperation between the union and the government, both at the directorate and ministerial level.
"This is absolutely nation-leading. It's been a true partnership rather than an adversarial environment. We presented a very compelling case, we asked for leadership – and we got it," he said.
"We've both been chasing the same goal and been able to deliver a very strong policy and plan that our members can have complete confidence in".
Fowler said that within the last 12 months, occupational violence had gone from being barely mentioned in schools to a "headline item" in the ACT Budget.
"The resources associated with that were a bolstered work-safety team within the directorate and the employment of a chief safety officer," he said.
"We've always had teams looking at student needs, but we're now seeing an elevation of the work-safety capacity within the directorate so that we can achieve these two inalienable rights. Both of them must be delivered".
Fowler said that by acknowledging the issue of occupational violence in schools and tackling it head on, schools will become happier and safer workforces.
"As a result, this will also lead to improved learning outcomes," he said.
On Wednesday, principals undertook a professional development session at the National Portrait Gallery in Canberra to implement the new policy. Fowler said that when he addressed principals and explained how the policy would embolden them, he saw "emotion" in their faces.
"Principals should be strongly encouraged by this, because they have now been given the blessing by their employer to address this issue seriously," he said.
"I think we have finally ripped the band-aid off."