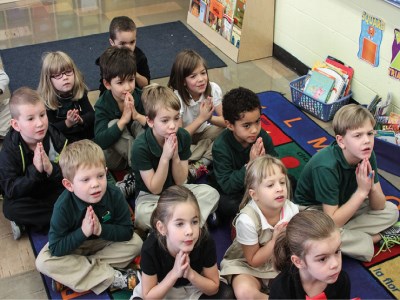 Victoria's government has handed down new rules for Special Religious Instruction (SRI) in state schools, after announcing in August that it would scrap the controversial program.
Under the new guidelines, which come into effect in January, the 30-minute SRI classes will be delivered outside school hours or at lunchtime.
However, the state's largest SRI provider, Access Ministries, told
The Age
the new policy was "ambiguous and confusing".
"When we sing a Christmas carol, it is based on a biblical story. Do you need permission to sing a Christmas carol?" Access Ministries spokesman, Rob Ward, asked.
However, Fairness In Religions In School (FIRIS) – a parent-driven grassroots campaign – has welcomed the changes.
FIRIS spokeswoman, Lara Wood, told
The Educator
the changes to SRI were "fantastic" because teaching time will no longer be sacrificed for the program.
"Children will no longer be segregated by religion and principals now have the authority to make a decision to offer SRI for whatever reason. Previously they could only scrap it for 'operational reasons'," Wood said.
Wood added that even though the classes had been moved to lunchtime or before and after school, principals would still need to ensure that the new guidelines were "strictly followed".
"This will be a challenge, because ACCESS Ministries and their religious volunteers have a past record of managing the program very poorly and wanting to use the schools as mission fields to make disciples,"
she said.
"This will add an extra layer of work for busy schools. Principals will have to ensure that the classes are closely supervised and that volunteers do not attempt to proselytise or offer treats to children."
A ministerial directive from the Victorian government has told principals to ensure SRI providers do not entice students with treats and rewards, or try to convert them.
Wood said such rigorous supervision would involve effort and resources from schools.
"We envisage only a small handful of principals will want to take this on, as the majority of schools have already ceased the program since the ministerial direction [MD141] came into effect in July 2014," she said.
"We have thousands of parent supporters right around the state who regularly send us information of what is happening in the schools, and we will continue to monitor SRI closely in 2016 and notify the Dept of any concerns."
The Victorian Government has provided principals with a list of scenarios to ensure they understand the difference between an SRI and non-SRI activity.
For instance, students can take part in a course on Jewish history during class time with the support of the Jewish Museum of Australia.
Prayer groups led by students are also considered a non-SRI activity, as long as no one from outside school is present.
"A secular education is not devoid of everything that has a spiritual element," the advice says.