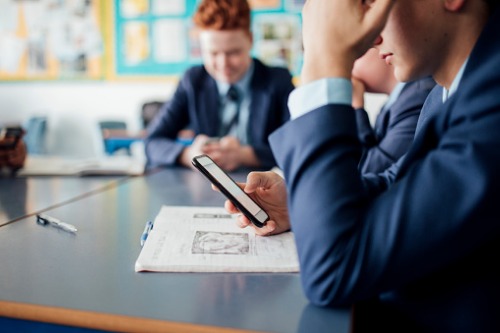 The NSW Education Department has launched a review that could see smartphones and digital devices banned from the state's schools.
Currently, 89% of Australian students admit to using the smartphones in the classroom. However, research shows that student learning outcomes improve when the devices are removed from classrooms.
The terms of reference for the NSW Government's review, released on Friday, proposes prohibiting all handheld devices that allow students to send, receive and store digital information to one another.
Currently, individual schools are allowed to set their own mobile phone guidelines, but a recent report by the Office of e-Safety found a 28% increase in cyberbullying and a rate of 42% of young people saying they've had unwanted contact online.
Similar concerns in France prompted the country's government to ban students aged under the age of 15 from using smartphones at schools under new laws that came into effect this month.
Child psychologist, Dr Michael Carr-Gregg, said many schools are acting on these issues without an evidence base, and this is something that should change.
"The French banned mobile phones in classrooms at the beginning of this year. Part of our inquiry will be to see how this is working," Dr Carr-Gregg told The Educator.
"The review will be a look at world-best practice and to make some significant recommendations to principals that are based on science as opposed to anything else."