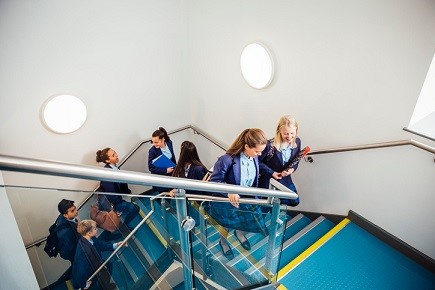 Yesterday, NSW Education Minister,
Rob Stokes
has opened a new five-storey $19.3m school in Sydney's Bellevue Hill as part of the state government's $4.2bn infrastructure revamp.
Stokes praised Bellevue Hill Public School as "a state of the art" educational facility and commended its staff for creating new approaches to learning.
The success of the open learning design incorporated into the new school was recognised with the 2017 Secretary's Award for an Outstanding School Initiative –
Developing Teacher Capacity for Open Plan Learning
.
The opening of the new school, which will accommodate 400 students, comes amid concerns that the state is unprepared for the expected influx of more than 164,000 additional students over the next 15 years.
To address this, the NSW Government's 2017-18 Budget included $4.2bn over four years to build more than 120 new and upgraded schools, creating 32,000 additional student places.
Visiting the school on Monday, Stokes and Member for Vaucluse, Gabrielle Upton, declared its 25 new classrooms open, with the Minister saying the school now boasts "an extraordinary building with a wonderful learning environment".
The school includes a lift, a new outdoor teaching area and high quality play space. There was also a new canteen, an extended covered outdoor learning area and refurbishment of existing spaces for administration and reception facilities and new landscaping.
However, Opposition education spokesman, Jihad Dib, says government spending on public school infrastructure has come too late and fails to address the bigger issues.
"The government has dropped the ball for too long when it comes to upgrading and building new schools," Dib told
AAP
.
"They're spending $2bn on new sports stadiums when we desperately need new schools and new classroom facilities."
Related stories:
New high-rise school unveiled
Report floats controversial solution to fixing schools