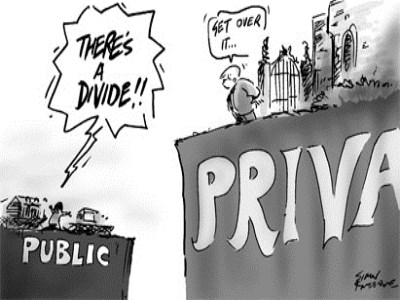 What's wrong with this picture?
New figures have shown that since 2009, the Government's funding increases for private schools has trounced the funding given to public schools.
The data was collated by the Australian Curriculum, Assessment and Reporting Authority (ACARA) and appeared on the My School website.
As noted on
Save Our Schools
' (SOS) website, it was "the first time that aggregated school income figures derived from My School have been officially published by ACARA".
According to the figures, the total income of Independent schools was about 45% higher than that of public schools – $17,941 per student compared to $12,403 per public school student.
SOS president,
Trevor Cobbold
, highlighted the public-private funding disparity in an article on the SOS website.
"The percentage increase in funding for Catholic and Independent schools was almost double that for public schools despite the fact that public schools enrol the overwhelming majority of students in need of increased support,"
Cobbold wrote.
Cobbold added that the funding increases for private schools seem to ignore the ongoing plight of more needy public schools who shoulder a larger burden of problems due to associated socioeconomic factors.
"Public schools face much greater challenges because they enrol the vast majority of low SES, Indigenous, disability and remote area students.
"Clearly, it is public schools that are doing the heavy lifting in education in Australia. Catholic and Independent schools do not assume the same social obligations as public schools,"
Cobbold wrote.
The issue of Gonski funding inevitably arose, with Cobbold calling upon Labor as well as State and Territory leaders to reaffirm their commitment to the full six years of Gonski funding.
"State and territory governments should also follow the lead of the NSW Government in keeping to its Gonski commitments and step up their funding of public schools."