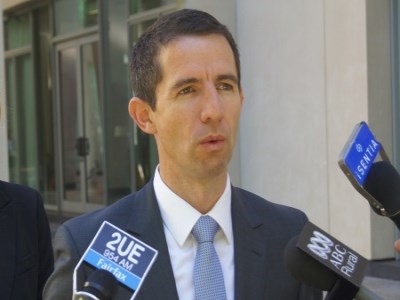 The Federal Education Minister,
Simon Birmingham
, has responded to this week's preliminary NAPLAN results, saying there needs to be a greater focus on evidence-based measures in the nation's classrooms.
His comments come after it was revealed that there had been
no overall improvement
in the national literacy and numeracy tests since 2015.
"We need to focus on evidence based measures that will get results for our students because today's results once again show that, despite significant funding growth, we are not getting sufficient improvements in student outcomes," he said in a statement.
"That's why the Turnbull Government has clear, evidence-based policies focused on quality educational outcomes for our children.
Birmingham added that the NAPLAN data showed that while strong levels of investment in schools was important, funding should be provided towards "initiatives proven to boost student results".
The latest NAPLAN results showed an increase in reading scores across the country of 0.40% since 2013, a decrease in writing scores of -0.20% and an increase in numeracy of 1.26% across all year levels.
In a statement yesterday, ACARA chief executive,
Robert Randall
, said that while Queensland and Western Australia stood out more than others in terms of improved performance, he was concerned that results had plateaued elsewhere.
"Plateauing results are not what we should expect or assume from our education systems," he said.
"ACT, NSW and Victoria continue to have the highest mean achievement across the NAPLAN domains, although it would be encouraging to see improvement in these places along with further improvements in other states and territories."
The ACT performed the best overall in reading and grammar, while Victoria dominated the writing and numeracy categories.
Birmingham said that while Australia had "excellent schools and teachers" the conversation needs to move on from just how much is being spent in schools to focus on how record funding can best be used for the benefit of students.
"Of course investment in our schools is important, which is why we will continue to grow funding from a record $16bn this year to $20.1bn in 2020, all to be allocated based on need," he said.
The Federal Government's continued funding to schools will be tied to "a range of evidence-based initiatives" to support students by focusing on outcomes in literacy, numeracy and STEM subjects.
"Every dollar we spend on education must be spent as effectively as possible and the Turnbull Government will ensure this occurs in our schools so that students receive the quality outcomes they need to secure jobs in our new economy," he said.
"It's time for Australian leaders, educators and families to focus on what works in our schools and I look forward to collaborating with all sections of the community to implement our reforms which are designed to support all students to achieve their absolute best."