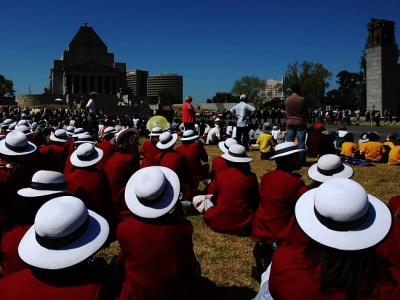 The Federal Government has hinted it could make cuts to overfunded private schools as part of a push towards a more equitable system.
Speaking with Tony Jones on the
ABC's Q&A
program, Federal Education Minister,
Simon Birmingham
, said he wanted the "fairest" and "most affordable" funding model possible for Australian schools.
Birmingham agreed that some schools were over-funded, adding it was possible some of them could be worse off under a new funding agreement with the States and Territories.
When prompted to provide details by Jones, Birmingham refused but said there were some private schools that "fit the bill" for being overfunded.
"So some private schools could expect under your governorship to lose money?" Jones asked.
Birmingham said that situation would depend on whether the Federal government could reach accord with States and Territories.
Birmingham said he would consider the Gonski report's recommendation that an independent group be established to oversee resourcing for schools on a national level.
"If the States and Territories are willing to do so I am open to that idea. There is no point in having such a body if the only one who allows it to direct resourcing is the Federal Government. You need the States and Territories to play ball," he said.
However, yesterday Birmingham said the Federal Government did not necessarily need the approval of the States and Territories in order to implement a new funding agreement, saying changes could be made within the framework of the current agreement.
"We can work within the current budget because much of the extra spending that Labor promised in 2013 – off in the never-never – beyond the forward estimates was never actually legislated spending so much of that is not actually tied to the legislation," Birmingham told
ABC Insiders on Sunday.
"So we can work within the current budget arrangements but of course I think it is far, far better if we get reforms to ensure we are distributing funding according to need equitably across the states and driving reform in schools."