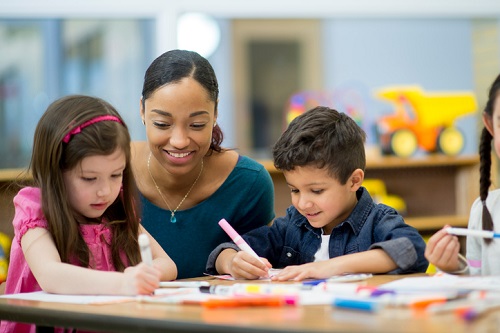 At Hillman Primary School in Western Australia, students as young as five are already thinking about who they might be when they leave school.
The primary school, located south of Perth, has taken a holistic approach to careers education: from involving local businesses in careers days, to setting up a play-based learning 'street' in the school featuring types of community businesses students could work in.
Principal Aaron Young said the school embraces career-related learning and connects students' educational experiences to the community.
"[While] there's no need for our students to pick a career right now… at least it gives [them] an idea of what's available," he said.
Hillman Primary School is one of nine schools featured in a series of resources that ACARA has released today.
ACARA worked with schools in metropolitan, rural, regional and remote areas around Australia to develop illustrations of practice for teachers (videos and supporting resources showcasing an authentic classroom experience).
Using evidence-based research, the illustrations of practice support teachers in delivering career education to Australian students and focus on the transferable skills that students need in order to develop and branch their career pathways.
"We know that the future of work for our young people will be markedly different from what we know today," ACARA CEO David de Carvalho said. "The skills, attributes and knowledge that our students need in order to develop and forge their own career paths are skills such as critical and creative thinking, ethical and intercultural understanding, ICT skills and of course, literacy and numeracy skills.
"In the Australian Curriculum, we call these types of skills and attributes 'general capabilities'."
"The general capabilities are part of what we do," Mr Young said. "Part of our career week was to give our students an idea of what it is to succeed, to bounce back and be resilient, to look at opportunities and make the most of them."
The Australian Curriculum general capabilities form the basis of the illustrations of practice released today. These resources were developed in consultation with the business industry, professional associations and parent groups.
Mr Young said career education at Hillman Primary School has been a success.
"Hopefully we can ignite some passion in our students and raise their aspirations for the future."
This article originally appeared on the ACARA website and has been republished with permission.