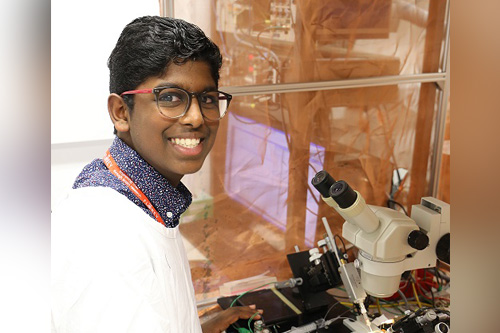 The sky is the limit for Melbourne high school student, Anirudh Kathirvel.
Kathirvel, a Year 8 student at Haileybury Keysborough, was accepted into the Advanced Neuroscience Workshop at the University of Melbourne, despite the significant gap in age and experience.
Kathirvel said he thrived within the group, which comprised of PhD students with various backgrounds, such as neuroscientists, geneticists and electrical engineers.
"Even though there were many other students that more experienced than me, we all shared similar interests," Kathirvel said.
"The fact that the others were PhD students and the fact that I was a high schooler didn't get in between anything and we treated each other as peers."
The science workshop explored the fundamentals of ion channel function in the brain, experimenting with the electrical activity in cells.
This advanced course gave Kathirvel the opportunity to work with automated patch clamping machines, stem cell multi-electrode arrays and channelopathies/dynamic clamp.
Kathirvel said his passion for science lead him to seek out new opportunities to advance his learning and build practical lab skills.
"Before this workshop, I was learning neuroscience through textbooks, videos, lectures and online courses," he said.
"However, this workshop helped me learn through a new perspective, with a roundtable discussion and hands-on experiments in the lab. With this experience, I believe that science should be studied with the correct mix of theory and practice."
In addition to this remarkable achievement, Kathirvel has also been selected to present his abstract—Integrative Genomics Analysis of Epilepsy & Autism in the Developing Brain at the 18th Global Neuroscience Conference in Tokyo, Japan later this year.