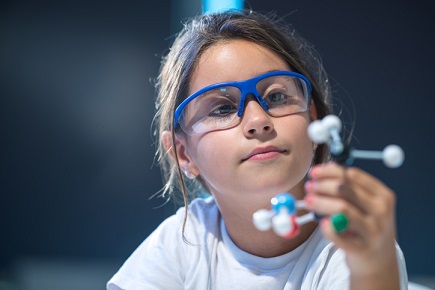 Science, Technology, Engineering and Maths (STEM) education is critical to preparing for the jobs of the future, but a new study shows that fewer students want to pursue the careers associated with it.
The new US survey by Junior Achievement, the world's largest organisation dedicated to youth career readiness, found that over the last 12 months there was a drop from 36% to 24% in the number of teenage boys who want a STEM career.
The researchers also found that the low level of interest among teenage girls remained unchanged at 11% year-over-year.
Ed Grocholski, senior vice president of brand Junior Achievement USA, told The Hour that given the amount of emphasis placed on STEM education it was "a bit discouraging" to see those numbers continuing to decline.
He said two main factors influenced teenagers' career interests: the likelihood that they'll be able to succeed in their career and the ability to help others.
"The satisfaction of knowing you're helping people is a little more altruistic than what we've seen in prior years," Grocholski said.
"That's certainly an encouraging part of this. It's also seeing if they can take that desire to help people and translate to opportunities in STEM. Even jobs that traditionally you wouldn't think require STEM, you're seeing more and more of that."
According to Grocholski, the key in generating interest in STEM careers amongst students involves both earlier exposure through education, mentoring and an emphasis on how such careers help others.
These challenges are also evident in Australia, where a new report has called for the STEM curriculum to be changed in order to improve outcomes across the four key subject areas.
The report, by the Australian Council for Educational Research (ACER), says an integrated curriculum, early intervention and a stronger teaching workforce are key to reversing Australia's downward spiral in STEM education.
"Australia's unbalanced and fragmented STEM curriculum is leading to declining interest among students," the report's co-author and ACER's Director of Research Development and Quality Assurance, Dr Michael Timms, said.
"An integrated approach that focuses on practices, skills and capabilities, and not just disciplinary knowledge, will create a relevant context in which content can be learned."
Dr Timms said that, in light of research showing that science achievement gaps begin very early in life, equitable and early access to STEM is vital.
"Students' opportunity to engage with STEM should not depend on their capacity to pay," Dr Timms said. "Yet STEM learning is so often packaged as extracurricular activities with inherent barriers to access for less privileged learners."
"We must invest in creating the same level of engagement and excitement about STEM as part of the standard program in all early childhood centres and schools," Dr Timms said.
Related stories:
Overhaul STEM curriculum, experts urge
Top 10 STEM education tips for schools