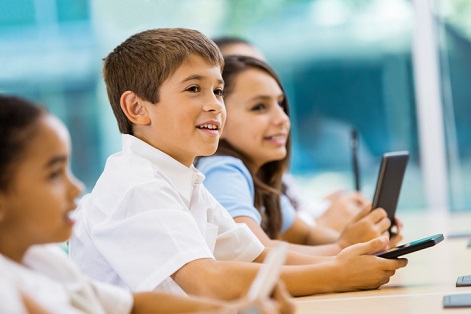 In today's world, people spend a large portion of their day looking at screens, whether it's at the computer at work, the information on our phones or the television when we get home.
All in all, Australians spend one third of their day in front of screens, and for Americans, looking at screens occupies nearly half of their day.
However, a growing body of research suggests that any more than a couple of hours in front of a screen can have a damaging impact on the brain – particularly when it comes to cognitive functions.
Last year, the American Academy of Pediatrics (AAP) said that for children aged two to five years of age, screen time should be limited to one hour of "high-quality programming" a day. For children aged six and older, it is recommended that they spend no more than two hours a day in front of screens.
An online technology usage poll, conducted by ABC children's current affairs program, Behind The News, surveyed more than 18,000 young Australians to reveal their technology habits.
One-in-four young people surveyed admitted they would find it "impossible" to go without digital devices for even one week – a trait that can be associated with Internet Addiction Disorder (IAD).
Even worse, some studies suggest that excessive screen time can have a range of negative cognitive effects, including structural and functional changes in brain regions involving emotional processing, executive attention, decision making, and cognitive control.
Earlier this year, French president, Emmanuel Macron, banned the use of mobile phones in primary, junior and middle schools – both inside the classroom and even outside in the school playground.
Under the new rules, students will be allowed to bring their phones to school, but are not allowed to get them out at any time until they leave, even during breaks.
Shortly afterwards, Australia's Federal Education Minister, Simon Birmingham, proposed that the country's schools should follow suit as smartphones were "a distraction from lessons" and "a platform for bullies".
The UK's culture secretary is also suggesting it would be a good idea for schools to ban mobile phones.
However, others disagree. According to research published last year by Oxford University, screen-time guidelines for children are too restrictive.
Lead author Dr Andrew Pryzbylski, of the Oxford Internet Institute, said: "Taken together, our findings suggest that there is little or no support for the theory that digital screen use, on its own, is bad for young children's psychological well-being."
"Future research should focus on how using digital devices with parents or care-givers and turning it into a social time can affect children's psychological well-being, curiosity, and the bonds with the caregiver involved," he said.
However, a recent study by Jean Twenge, Professor of Psychology at San Diego State University, reinforces concerns about the neurological impact of screen time.
According to Professor Twenge's research, 48% of children who spent five or more hours a day on their phones think about suicide or make plans for it, compared to 28% of teens who spend only one hour per day on their phones.
"Teens who spent more time doing sports, homework, socialising with friends in real life, and going to church had a lower risk for both depression and suicide," Professor Twenge said.
"These increases in mental health issues among teens are very alarming. Teens are telling us they are struggling, and we need to take that very seriously."
Related stories:
Schools ignoring real issue amid phone ban talk
What impact is technology really having in the classroom?
Most children are infrequent readers – survey