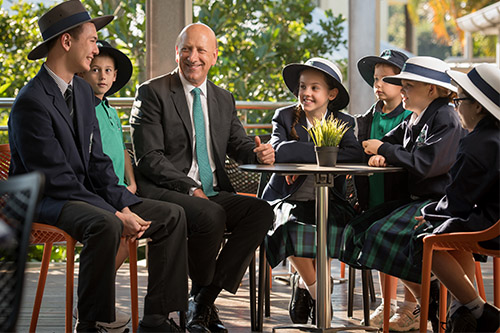 Character education has become an important topic in the world of adolescent development and, as a school principal, I accept the role we as educators play in this realm. Highlighting character as "who you are when no-one else is watching" can be confronting and requires some honest self-appraisal – it speaks to the person you are, not just the person you want others to think you are.
A more refined definition of character may be that put forward by Dr Phil Cummins of CIRCLE (The Centre for Innovation, Research, Creativity and Leadership in Education): "how people live their lives in terms of the fulfillment of their obligations to others, their potential, and their fundamental beliefs about what is good and right for them to do."
Either definition will provide the same fundamental truth that character is very much an individual construct that requires careful and purposeful attention if it is to define a person's approach to life.
The motto of The Crescent School in Ontario, Canada – "men of character from boys of promise" – says a great deal about the positive mindset within that school where success is judged in terms of the character of the young men who leave the place as well as the feeling that all boys have something to give - their promise of things to come.
Another approach I admire is that suggested by Professor James Arthur, Director of the Jubilee Centre for Character and Virtues in the United Kingdom. He visited Australia a couple of years ago and posed the question: "Is the purpose of schooling simply to prepare young people for a life of tests or should it actually be to prepare them for the tests of life?"
Professor Arthur answered his own question by suggesting that every school already models a set of values to its students. It is far better that this process is a conscious one, rationally organised, so that it becomes possible to evaluate what the school is saying and doing and how it says and does it. This is our challenge as we move forward. We need to be clear and unambiguous about what we value as a community and how each and every person has a role to play.
In a survey undertaken by CIRCLE in 2018, leaders in schools noted the top three challenges to the effectiveness of their character education programs as the influence of (i) parents, (ii) technology/social media and (iii) contemporary society. With all three playing roles to varying degrees as a child moves through his/her teenage years, the focus which schools bring to their character education programs is crucial. Even more important is the need for the school to embrace a language around the character strengths it wishes to promote.
It is said that values are caught not taught, requiring a 'culture of character' to be visible and practised every day. Supported at home, embraced by teachers and understood by students, character development in schools is crucial as it will influence the world in which future generations will thrive…or not.
Stuart Meade is Principal at Matthew Flinders Anglican College, a leading Sunshine Coast co-educational independent school in Buderim. For more, visit www.mfac.edu.au