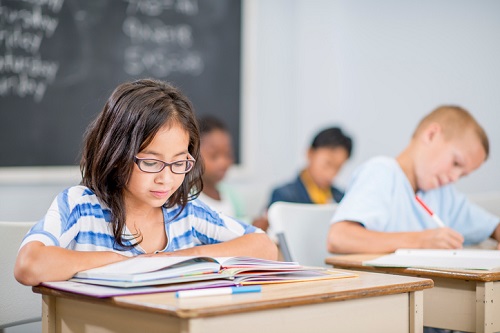 The latest NAPLAN data revealed a further decline in the proportion of students meeting the National Minimum Standard (NMS) in writing, suggesting a rethink is needed on how schools are working to improve students' literacy.
The decline is most evident at Year 9 level, with the gradient of decline sharpening dramatically for students in remote and very remote areas. Between 2008 and 2018, the drop in the proportion of all Year 9 students meeting the NMS in writing was 7.7 points; for students in remote areas it was 16.3 points and in very remote areas it was 16 points.
Across Australia, there have been mixed views on how schools should address this issue, but recent research has provided a potential solution.
A study by Noella Mackenzie and Charles Sturt University indicated, "prioritising drawing, talking and storytelling as part of literacy programs helps children learn to write."
One online literacy program – based on this same approach, connecting drawing to storytelling and impacting on memory recall – is helping improve students' writing skills by allowing them to create and author original handwritten and self-illustrated books.
Littlescribe is one of Westpac's 200 Businesses of Tomorrow, a Jobs NSW Innovation Award winner and also the recipient of the 2019 Telstra Innovation Labs muru-D Program. Its co-author program allows school students to form relationships with beloved authors not only as readers, but as writers and more uniquely as co-authors.
The line-up of co-authors signed includes Andrew Daddo, Oliver Phommavanh and Katrina McKelvey with Tristan Bancks and Deborah Abela next to jump on board.
"The reality is we have a problem with literacy in this country, especially writing," Daddo said.
"As a writer, that makes me a literacy leader and I believe every child should be given the fundamental skills to write."
The program engages all writing approaches including handwriting, drawing, typed form, mixed medium, verbal storytelling, music and acting; all effective methods to engage and start the writing process.
'Harnessing extraordinary literacy leadership'
The 'Surprisingly Powerful Influence of Drawing on Memory' report found "when we draw, we encode the memory in a very rich way, layering together the visual memory of the image, the kinesthetic memory of our hand drawing the image, and the semantic memory that is invoked when we engage in meaning-making."
The Littlescribe literacy platform draws on the scientific combination of these aspects to increase student abilities to recall concepts being written and drawn, essentially improving learning outcomes and developing reading and writing skills.
CEO and founder, Jenny Atkinson, was intrigued by "why there has been a decline of our students' ability to write, despite the emergence of today's technology?
In her pursuit to uncover the reason behind the decline in student ability to write, Atkinson spent three years with literacy leaders, teachers, students, authors, parents and corporates across Australia and New Zealand. Atkinson observed a key trend; students wanted their writing to be read by a real audience, beyond their teacher and parents. She found the possibility of a larger audience inspired children to write.
"Writing is a beautifully messy process for some, structured for others. We set about to provide a range of quality resources, linked to curriculum and techniques freeing teachers up to help the individual learning journey," Atkinson said.
"Littlescribe ensures every child has purpose and teachers have a suite of engaging writing projects with optimal learning methods to drive student writing progress. Children can digitise, print a copy, share and sell their original work"
Atkinson said she discovered "extraordinary literacy leadership" across the country.
"We have created a platform that harnesses and shares this knowledge," she said.
"Our children have the capacity to be the literacy leaders of the world. Together we can create a new legacy one page, one book, one student at a time".