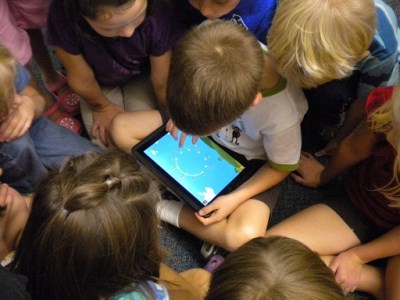 In Australia and around the world, there are education trends that are shaping how schools deliver learning, and in turn, prepare students for life after school.
Some of these trends include student-directed learning, spaces designed specifically for collaboration and even virtual reality, and demonstrate that principals are shifting the way they think about improving learning outcomes.
One of the main drivers of these trends is research which shows that students and teachers are lacking the necessary skills to prepare students for the workforce they'll enter once they leave school.
Create Your Own Classroom (CYOC) is just one of many concepts taking on increased relevance as many schools move towards more flexible learning environments and strive to meet these needs.
Troy Martin, VP APAC at Instructure, a cloud-based Learning Management System (LMS), told The Educator that the concept of CYOC is all about giving teachers and students the freedom to choose how learning is delivered and consumed.
"The CYOC trend transcends physical and virtual learning environments, the teaching and learning experience is active, collaborative, personalised and less structured – often driven by the student's own pace of learning," he said.
"Students can choose what content they consume and the way that they interact and collaborate with their teachers and other learners – all laying the foundations for lifelong learning."
Martin said that students are being exposed to technology from an early age, often even before they can read, means that by the time they reach school they're accustomed to using internet-enabled devices and software.
"If modern-day education doesn't reflect this digitally savvy society, students will not relate to their education experience and may become disengaged," he said.
Martin said there are several schools across Australia that leverage technology innovation to their advantage.
One of these schools is Melbourne's Haileybury, which has recently started to move towards a greater delivery of classes across its campuses using video conferencing technology.

Leigh Morrow, acting chief digital officer at Haileybury, told The Educator that this technology has the power to remove students' boundaries to a better education.

"We have one master teacher who is proficient in Latin and Classics, and is now able to teach these classes to kids in remote sites," he said, adding all that's needed is PC Lab with a camera and headphones.

"This makes it quite easy to deliver the message from one teacher across multiple classes. We have an apprentice teacher at the other campuses assisting where necessary but not needing to run the class."

A survey commissioned last year by NBN Co involving 1,000 students found that 75% use the internet to help with school courses at home. It also showed 51% used online videos to help research subjects they were studying.
Reports, such as one conducted by Stanford University, have shown that technology – when implemented properly – can produce significant gains in student achievement and boost engagement, particularly among students most at risk.
Unfortunately, Australia does not seem to be among the countries whose education systems are implementing technology in the most effective ways.

A global study by the OECD (Organisation for Economic Co-operation and Development) showed that technology is not improving academic results for Australian students.
The study – which included results from students in 70 countries – showed the more students used computers, the lower their results.
Martin said the key to driving improved learning outcomes through the use of technology is for teachers to set clear objectives from the outset.

"Teachers and administrators alike must ask not 'which devices and online learning management platform could we be using at school?' but rather 'what can technology help to achieve?'" he said.

"We need to work backwards, by first identifying a problem to solve or the outcomes we would like to achieve and then as a second step identify which technologies we should implement."