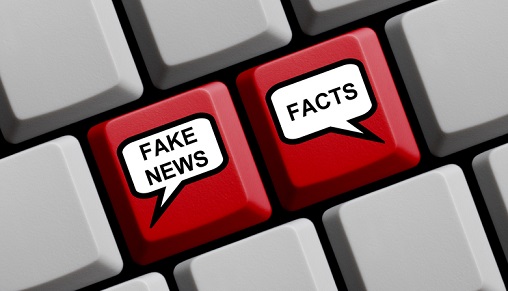 The Internet has democratized access to information but in so doing has opened the floodgates to misinformation, fake news, and rank propaganda masquerading as dispassionate analysis.
To investigate how people determine the credibility of digital information, Sam Wineburg and Sarah McGrew from the Stanford History Education Group sampled 45 individuals, including PhD historians, professional fact checkers and university undergraduates.
"We observed them as they evaluated live websites and searched for information on social and political issues," Wineburg and McGrew said.
"Historians and students often fell victim to easily manipulated features of websites, such as official-looking logos and domain names."
The study found that historians and students read vertically, staying within a website to evaluate its reliability. In contrast, fact checkers read laterally, leaving a site after a quick scan and opening up new browser tabs in order to judge the credibility of the original site.
"Compared to the other groups, fact checkers arrived at more warranted conclusions in a fraction of the time," Wineburg and McGrew said, adding that this approach is more likely to expose dubious information.
Harvard University's Usable Knowledge recently compiled a few guidelines to help understand how the study's findings can be of practical use to students, and teachers who are looking to improve digital literacy in their classrooms.
Read laterally, not vertically
The student participants did something they (and all of us) do often: they scrolled and read down the page. However, their close reading of the very sources they were tasked to interrogate did little to advance their credibility assessment. Instead, it misled them.
"The close reading of a digital source, when one doesn't yet know if the source can be trusted proves a colossal waste of time," Wineburg and McGrew said.
Takeaway: Encourage students to take the indirect route and begin their investigation of unfamiliar digital sources by leaving them. When students read laterally, they will avoid diving too deep into the actual content of the website in question and gain a wider, more impartial view of its credibility.
Don't fall for appearances
In the study, fact-checkers took more time than historians and students to sort through search results and, though slower to reach their conclusions, were the most selective and most accurate in assessing the integrity of sources.
"[Fact-checkers] understood the web as a maze filled with trap doors and blind alleys, where things are not always as they seem," Wineburg and McGrew said. "Their stance toward the unfamiliar was cautious: while things may be as they seem, in the words of Checker D, 'I always want to make sure.'"
Takeaway: Communicate to students that more thorough evaluations, like those lateral reading allows, are crucial to establishing the trustworthiness of digital information.
Practice 'click restraint'
Scanning through Google snippets, fact-checkers were able to bypass massive amounts of material and focused on credible information from news organizations like the New York Times and the Washington Post. Students, on the other hand, were far less strategic and "meandered to different parts of the site [itself], making decisions about where to click based on aspects that struck their fancy."
Takeaway: When you encourage students to read laterally, you should also remind them to exercise restraint and avoid promiscuous clicking. Speed shouldn't come at the expense of quality verifying – but more efficient, lateral reading will really make the mere minutes most spend searching count.
Related stories:
Report highlights need for media literacy among kids
School boosts digital literacy through coding initiative
Why student agency matters in the digital age