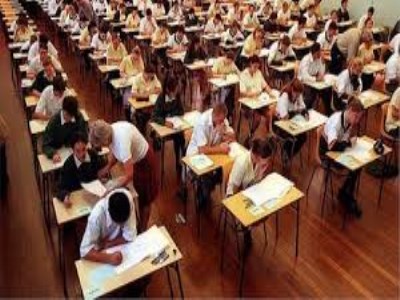 When comparing the PISA record of Australia's performance in reading literacy with Canada (Figure 1) we see how Canada appears to have stopped the downward spiral.
By contrast, Australia's dramatic fall from fourth in the nations that participated in 2000 to sixteenth in 2015 is distressing.
Clearly Australian teachers are doing their best, as they know it.
However, if the Canadians can improve their students' outcomes then we need to look at their apparent solution.

The figure below shows a comparison of Australian and Canadian PISA results from 2000 through to 2015.

In Canada..."There have been systematic efforts to improve literacy, with well-trained staff, resources such as school libraries and testing and assessment to identify schools or individuals who are struggling." (Coughlan, S., TES, 2 Aug 17)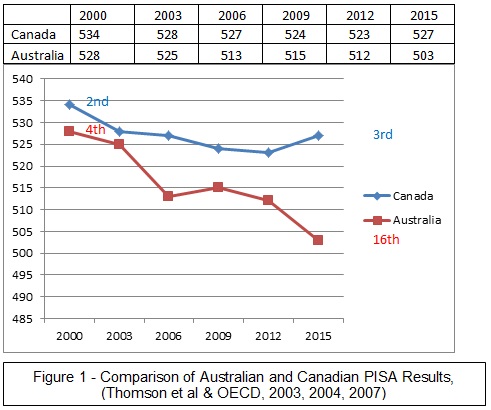 The author searched for explanations for Australia's decline by looking at the NAPLAN results of our schools. Figure 2 is an example of what he found. Regardless of ICSEA status and dollars spent per student, the pattern was almost universal.
That is, students' results typically flat line while the student growth per year varied considerably. He found that it was usual for student growth for grade 3 to 5 to be about double that of grades 7 to 9. The grade 9 results, although flat lining, tended to be correspondingly higher for higher ICSEA schools but the pattern of variability in student growth per year continued.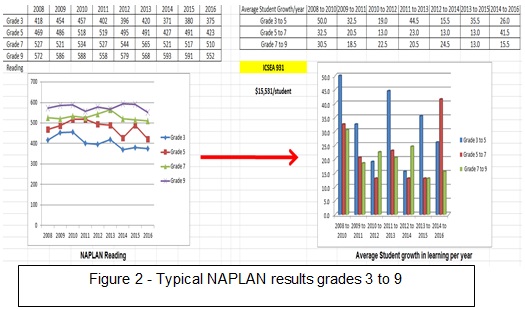 Knowing that teachers are short of time, and need data to better inform them of their students learning, the author developed computer software to enable teachers have their marking and data input by their school photocopier.
The software, AutoMarque, enables teachers to easily conduct pre-test/post-test analysis, per strand of learning, informing them of how each student is progressing (Figure 3).The concept of personal best (PB) rather than comparing them with their peers has proved to be a powerful motivator for student learning.
When students receive such results even high performers are motivated to strive further rather than slacken off because they can see where their gaps in learning exist. This revelation of where gaps exist, encourages mastery of learning for all students.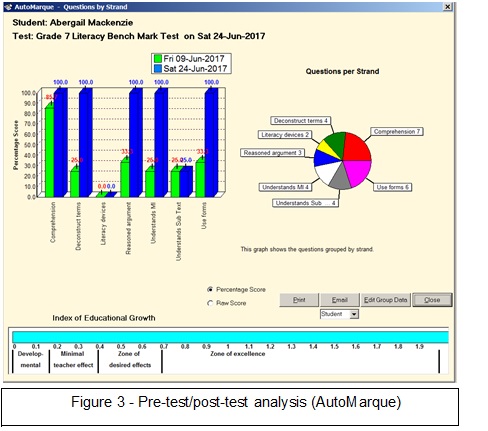 "A PB approach to learning is when a student aims to do as well or better than their previous best efforts or performance. PB goals are distinct from general goal setting in that they are specific (a student identifies precisely what they are aiming for), challenging (a student raises the bar on him/herself), and competitively self-referenced (a student competes with him/herself rather than competes with others)" (Green and Martin, 2017).
Schools vary in how they us AutoMarque. Some use it to save time, especially selective entry schools. In such cases, they are especially interested in identifying the gaps in foundational learning of new students. AutoMarque's forensic analysis does this quickly and easily.
Other schools use AutoMarque to conduct regular assessments to confirm learning progress of all students. Figure 4 shows how this high school has lifted its students reading outcomes year after year through regular assessment and thoughtful application of data.
This has enabled the school to better identify students who are struggling and to ascertain and remove their impediments to learning, thus enabling success. Note: It is not just equal to the previous year's success, they have improved year after year.
This 'mastery of learning' (Beswick, 2017) appears to be what has enabled consistent growth in outcomes from the school.



References
Beswick, K., Lessons from successful schools, Education.Transforms, April 3rd, 2017
Coughlan, S., How Canada became an education superpower, Times Educational Supplement, 2 Aug 17
Green, J., and Martin, A., Using personal best goal-setting and values driven action, Teacher on-line magazine ACER 2017
McGaw, B. and Lievesley, D., PISA 2000, UNESCO – UIS, 2003
Learning for Tomorrow's World – First Results from PISA 2003, OECD 2004
PISA 2006: Science Competencies for Tomorrow's World, OECD 2007
Thomson, S., De Bortoli, L. and Underwood, C., PISA 2015: Reporting Australia's results, ACER 2015