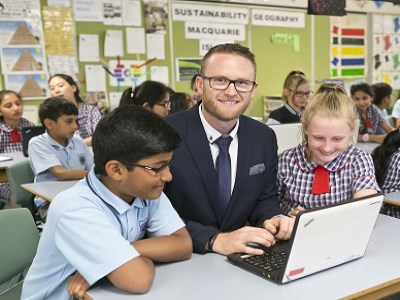 Recent studies have shown that just one-third of teachers feel prepared and equipped with the knowledge and tools to teach numeracy.
Meanwhile, student outcomes, and engagement, in maths have been steadily declining over the years. Figures show that in 2016, just 69% of HSC students studied a maths subject – down from nearly 95% in 1986.
So what's driving these downward trends?
The creators behind popular Maths resource, Matific, believe that, on the whole, maths is not taught in a fun, engaging and simple way which allows students to learn at their own pace.
And it is through these practices that the resource – designed by teachers for teachers – has been improving maths outcomes in the classroom.
A research report from Western Sydney University found an average increase of 34% between students' pre and post-test results, and for many students the use of Matific was a significant influence on their improvement.
Brent Hughes, education expert at Matific, told The Educator that the resource has become so popular in classrooms that it has tripled the amount of content it has delivered over the last 12 months.
"We have a big team of developers working around the clock who are creating a range of new, in-depth activities that are allowing children to engage with maths in a more powerful way than with the previous resources," he said.
"The 34% increase [in maths improvement] is like a co-contributor between a reduction in maths anxiety, but then also an increase in maths skills as a result of being engaged in high quality maths resources."
Gamification removes the panic factor
Gamifying maths has been shown by research and real-world practice to have a significant impact on maths engagement and outcomes, says Hughes.
"The reason gamification works is because when children are playing a game, the likelihood of them taking a risk, or implementing feedback after making a mistake, is so much greater," he said.
"This is because mistakes in games are part of the process. You don't play games that are easy – you play games because they are hard."
However, Hughes said that when it comes to learning, children don't have that same association.
"They don't want to attempt things that they don't already know how to do, because they're worried about what will happen if and when they fail," he said.
"In tests like NAPLAN, children go into panic mode when they get a difficult question, but if they are in this situation in a video game, the opposite happens. They want to persevere and succeed; they are also more responsive to feedback."
Hughes said that Matific allows teachers to track the data when children are using the resource.
"When a mistake is made, we have almost a 100% second attempt rate," he said.
"This is phenomenal because it means students are getting feedback that they've made an error and give the question a second shot when prompted."
Hughes said this is markedly different to what happens in pen and paper tests because students don't know they've made a mistake until the teacher tells them.
"Another reason is because once the mistake has been made, children are unlikely to revisit the question out of fear that they'll embarrass themselves in front of their peers," he said.
Hughes said the fact that schools have seen a significant return on investment in terms of improved maths results should encourage principals to consider adopting the Matific resource in their schools.
"Matific helps teachers and parents avoid the problem of children not doing their maths homework," he said.
In fact, we have the opposite problem – kids using Matific want to complete more activities and in many cases have completed all of the ones we offer. For this reason, we're constantly developing new activities for them to use."