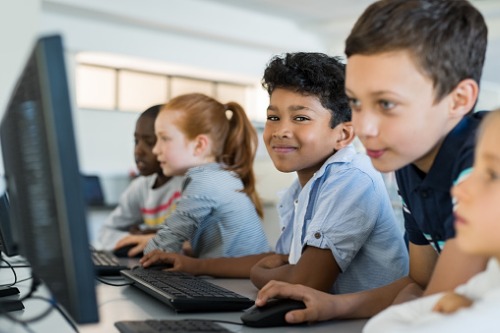 Six of the Hunter region's most promising start-ups were recently selected to travel to Sydney and unveil their innovations at 'Hunter iF's Start-up Xpress' pitch event at the Sydney Start-up Hub on 17 June.
Some of the innovations showcased included one of the world's most efficient wind turbines, a robot with human-like instincts that can mow lawns and take out trash, miniaturised spectrometers that generate farm lab results from the paddock, and an app that helps prevent dementia deaths through social inclusion measures.
Another one of the start-ups, Nuts n Bolts Design, provides students with a 3D drawing tool which fuses together geometric and creativity, art and maths, to boost spatial reasoning in children of any age.
Its series of online tutorials combined with the proprietary Splat drawing tool aim to help students develop visual spatial skills needed to succeed in Science, Technology, Engineering, Arts and Maths (STEAM) fields.
Kylie Burrett, founder of Nuts n Bolts Design, says all the elements, including the Arts are essential if Australia is looking to develop students with a future focussed skill set.
"Albert Einstein said 'The greatest scientists are artists as well'. Drawing in STEAM is not about creating a pretty picture it's about an integrated way of thinking that is underpins innovative thought and visual problem solving," Burrett told The Educator.
"Essentially, we must educate our student to be both critical and creative thinkers. It is by far the hardest skill set to automate and is essential for the success of our economy."
Burrett said schools, design thinking underpins learning across the curriculum, meaning that educators are required to teach drawing, thumbnail sketching for ideating and 3D modelling.
However, she notes that many teachers, especially in the primary years do not have any formal or technical training in design or engineering.
"The Splat 3D Design Kit supports them to teach the basics four shapes of design and how that can be applied to authentic engineering problems through STEAM based projects," she explained.
"Teachers love that the tool requires no batteries. They also are often surprised by how quickly their students acquire the ability to ideate in isometric - just like a computer."
Burrett said research shows that visual spatial ability is best developed in the primary years, when developing such skills is crucial.
"Creating tools to develop this skill is essential if we want children to unlock their design potential," she said.
Burrett said there are three recognised ways to improve this skill set – one of them being drawing in 3D.
"The Splat helps children achieve this. Seeing children as young as six draw in 3D is amazing," she said.
"There was previously an assumption that kids needed a digital device to visualise in isometric, but they don't. For me what is most powerful is seeing the children become more confident in their own ability to visually communicate what they are thinking."