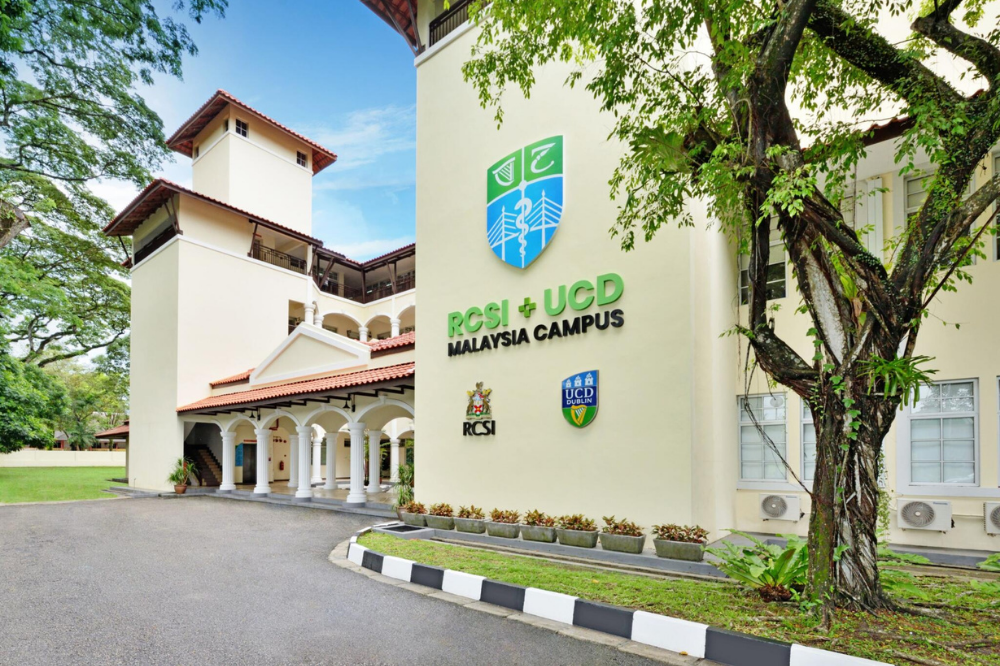 RCSI & UCD Malaysia Campus (RUMC) is Malaysia's first accredited private medical institution established by the Royal College of Surgeons in Ireland (RCSI) and University College Dublin (UCD), two world-renowned universities in Ireland.
RUMC received University status from the Malaysian Ministry of Higher Education (MOHE) as a Foreign University Branch Campus in 2018 and is the only Irish university in the region.
RUMC's flagship programme is the Undergraduate Medicine (MB BCh BAO) which begins with pre-clinical studies at either RCSI or UCD. Students receive comprehensive biomedical science training for the first 2 ½ years in Dublin.
The curriculum at RCSI and UCD set students apart as being clinically distinguished, competent, and confident to take on their houseman years later on.
Students return to Malaysia for their Clinical Years for the remaining 2 ½ years in the Penang campus. With clinical exposure beginning in Dublin, students are exposed to patient-centred learning from their very first year of training as doctors. They continue to develop their clinical skills at RUMC's training hospitals
Students' have sole access to Penang General Hospital for their clinical training which helps them to focus and nurture patient care and medical skills to their full potential. Other hospital teaching sites of the university include Seberang Jaya Hospital, Taiping Hospital and Bukit Mertajam Hospital.
RUMC also offers the Foundation in Science program, a pre-undergraduate pathway for aspiring doctors to receive an early introduction to the medical and clinical fields in a hospital setting. Upon concluding the FIS programme, students may progress directly to the 5-year Medical Degree Programme at RUMC.
RUMC's holistic learning avenue enables students to be fully immersed with Irish and international students throughout their duration of study at RCSI or UCD. The same goes for their journey in Penang – a city bustling with opportunities to combine studies with exciting social life.
Once they have completed the entirety, they will receive their degrees from the National University of Ireland, which is similar to the ones received by those who complete their five-year Medicine programme in Ireland.
Our graduates have opportunities to practise Medicine not just within the Malaysian healthcare setting, but also overseas such as the US, the UK, Ireland, Canada and more, RUMC actively connects alumni with graduates, current and prospective students, to provide them insight into the various pathways to practise Medicine in local and international settings.
One such alumnus is Dr Yvette D'Oliveiro who is currently based in Australia and serving the private practice as a Consultant Anaesthetist.
"The bridging experience through RUMC provides unparalleled academic and lived experiences that provided me with the necessary skills and knowledge to work in different settings, and cultural diversity," D'Oliveiro said.
"The opportunities to learn were abound and has continued to provide a thirst for learning."
For more information on the programme and intake, please visit our website, connect with via email or speak to us at +604-217 1888.