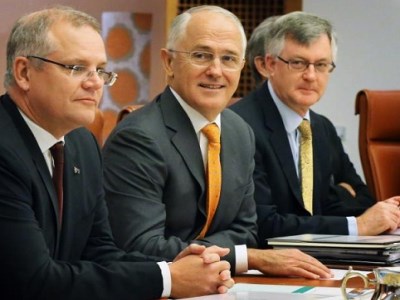 A long-awaited agreement on school funding that was scheduled for this month will now be postponed until June
The Council of Australian Governments (COAG) meeting was cancelled after two Labor premiers, Daniel Andrews from Victoria and South Australia's Jay Weatherill, advised they could not attend.
Federal Education Minister, Simon Birmingham, is due to meet his state and territory counterparts on Friday, but will not release details of funding plans at that meeting.
Instead, he has requested an extra meeting to be held in the lead-up to the next COAG meeting, scheduled for June.
In a letter to state ministers on Monday, Birmingham said that the Federal Government has "consistently made clear" that the Prime Minister and state and territory first ministers would finalise future school funding arrangements at COAG in the first half of this year.
"I have been working on a funding model that ensures the Commonwealth's record and growing levels of investment in schools is fairly and transparently distributed, allocated according to need and tied to reforms in school systems that are proven to improve student outcomes," Birmingham said.
However, Victoria's acting Education Minister, Gayle Tierney, said Birmingham was treating the states and territories "with contempt".
"Once again Simon Birmingham is treating the states and territories with contempt, offering only verbal briefings and no detail," she said in a statement.
Tierney added that the meeting's postponement would make it difficult for state and territory education ministers to have any real input into a new school funding model.
"Victorian families deserve better than vague statements about 'further discussions'," she said.
NSW Education Minister, Rob Stokes, said he was still lobbying for the six-year Gonski agreements to be delivered in full.
"NSW has acted in reliance on the Commonwealth's commitment, and has a legitimate expectation that the federal government will honour their promise," he said.
The Australian Council of State School Organisations (ACSSO) said the current funding models, which are made up of 27 different agreements across the three school sectors, have led to a "highly complex situation" that few understand.

ACSSO president, Phillip Spratt, told The Educator that at the heart of such a review should be a rebalancing of Federal and State and Territory funding to ensure each is responsible for an equal proportional input into the public and private sectors.

"In an ideal world, it could be hoped that a new and truly needs-based funding model, such as that outlined in David Gonski's proposal, could offer a starting point for discussion – and one that was unencumbered by the requirement that no school would lose a dollar per-student as a result of the reform," he said.
Related stories:
'Complex' school funding models need review
COAG meeting focuses on school funding
Private schools warn of fee hikes amid funding changes