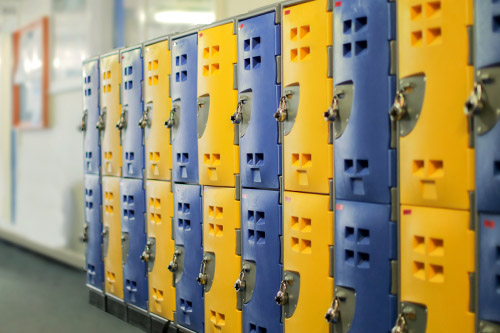 The CIVIQ team worked with Westall Secondary College by introducing 350 new FlexiLocker CubeLok storage units across the school's campus.
Based in the south-east suburbs of Melbourne, the secondary college wanted to address the shortage of storage locker facilities to accommodate for the 450 students enrolled at the school.
Staff identified that students had no secure space to store personal belongings during class time, so they reached out to CIVIQ for assistance.
The products needed to tie in with the campus environment, so it was necessary to introduce a locker system that featured a durable and economical design that is suited to both indoor and outdoor environments – particularly for areas partially exposed to weather.
Westall Secondary College reached out CIVIQ because they offered a highly customisable FlexiLocker system designed for outdoor and indoor applications.
The product is engineered for outdoor spaces with its heavy-duty polyethylene design, built to withstand exposure to weather, ultra-violet rays and rust. The CubeLok also features stainless steel door-hinges to minimise bumps and dents to the surface of the product.
The FlexiLocker CubeLok products are ideal for school campuses because they are developed with a lightweight composition which allows for easy installation and requires minimal maintenance. They are hard-wearing and easy to clean – great for resistance against vandalism.
The college selected a stacked, padlock-able 2-door configuration, with a yellow and blue anti-fade colouring to the front panels to match the school's branding.
Tristan Kanarus, principal at Westall Secondary College, described how the FlexiLocker system has strengthened the school's infrastructure.
"We purchased 350 lockers from CIVIQ and could not be happier. The service and communication is first class and the lockers are fantastic", he said.

"Our students love the colours and look of the new lockers and they have brightened our school considerably".
The FlexiLocker units have provided students with safe and secure storage in convenient locations across campus. Personal belongings can now be stowed and protected throughout break periods and during class time.
CIVIQ's school lockers have not only provided the school with a durable, security solution, but have added colour which has helped in brightening up the school's surroundings.
Related stories: