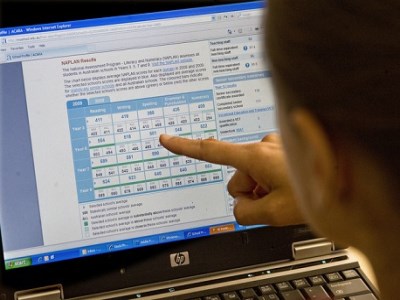 The latest NAPLAN data from 2015 was published on the Federal Government's MySchool website today.
The data, which analysed the academic performance of Australian schools, revealed "signs of improvement across the country", the national curriculum authority said.
The Australian Curriculum, Assessment and Reporting Authority (ACARA) identified 79 schools that scored above-average improvements in NAPLAN tests for a second year in a row.
The list showed a combination of state, independent and Catholic schools, as well as primary and secondary schools.
The MySchool website has been updated with the latest financial and academic information of more than 10,000 Australian schools.
In a statement, ACARA chief executive,
Robert Randall
, said the new data showed "signs of improvement" in schools around the country.
"The important thing is that there are schools across the country that are achieving this. It's across the school sectors," he said.
Canley Vale High School, located in Sydney's south-west, was among the schools that had shown significant gain in academic performance.
The school's principal, Peter Rouse, told
The ABC
that specialist literacy groups had helped boost the performance of his 1,440 students, many of whom are from Non-English speaking backgrounds.
"It really was a no-brainer for us. When you're looking at a school that has a 95% non-English speaking background, then obviously literacy is something that we have to focus on," he said.
While acknowledging the insight MySchool offers into school performance, the Association of Heads of Independent Schools of Australia (AHISA), reminded parents to look beyond the website when evaluating schools.
In a statement, AHISA chairwoman, Karen Spiller, cautioned that there were many parental concerns the site failed to address, and was not designed to address.
"I strongly encourage parents to visit a school ... rather than rely solely on the single dimension of NAPLAN results," she said.