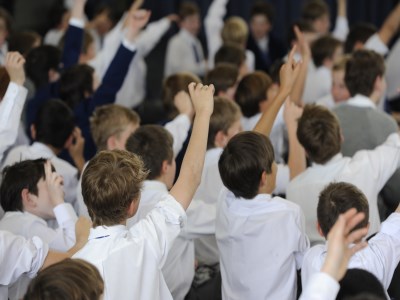 A first-of-its-kind evaluation aims to improve literacy and help Year 1 children catch up amid concerns over the latest
Programme for International Student Assessment
(
PISA
) results.
The PISA results, released in December, revealed that Australia's 15-year-olds are falling behind international standards in science, reading and mathematical problem solving.
Leading performer Singapore's science students are the equivalent of one and a half years ahead of their Australian peers, while Singapore is also ahead in reading (one year) and maths (two and a third years).
However, a partnership between the Murdoch Children's Research Institute (MCRI) and the University of Melbourne's Centre for Program Evaluation has been formed to help reverse this slump.
Together, they will evaluate an early-intervention program called MiniLit, which targets children who are in the bottom 25% of readers at the start of Year 1 to help improve their literacy skills.
In an Australian first, the independent randomised controlled trial will test a program that teaches key reading elements such as phonemic awareness, phonics, fluency, vocabulary and comprehension.
In a statement, MCRI's professor, Sharon Goldfeld, said "it's no longer okay to accept untested interventions."
"Research shows children who fall behind in reading are unlikely to catch up. We want to arm our teachers with the latest proven strategies – what works and, just as importantly, what doesn't," Goldfield said.
MCRI and University of Melbourne Research Fellow, Dr Jon Quach, said the trial – which will run throughout 2017 in more than 20 NSW public schools – will "guide schools as what interventions may lead to the best student outcomes".