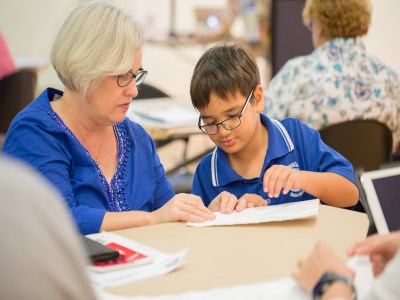 With Science Technology Engineering the Arts and Mathematics (STEAM) being a national priority in a bid to grow Australia's economy, there is an increased demand for STEAM specialists and improved STEAM education across Australian primary and secondary schools.
With many of these programs in their infancy, some teachers are struggling to find programs that will help students understand these abstract and complex concepts in an engaging way.
This is of particular concern for future teachers who parents expect to drive and be leaders in this space.
Melissa Silk – a teacher at the International Grammar School in Sydney – is also an entrepreneur and industry leader in STEAM education, and will be launching her co-created
Lumifold program
at the Vivid Sydney event on 31 May.
Silk told
The Educator
that principals seeking to drive better STEAM outcomes at their schools would benefit from including something like Lumifold in their box of professional development tricks.
"Integration of the arts in science, technology, engineering and mathematics reflects a natural intersection of subjects. The Lumifold project is one of thousands of STEAM projects being developed and delivered all over the world," she said.
"While its focus is on visible mathematics, participating in Lumifold requires people to also engage with intrinsic engineering theory, biomimicry, and the role of the aesthetic experience in learning by doing."
STEAM doesn't have to be "technology-heavy"
Silk said STEAM programming in schools does not have to be "technology-heavy" and that a healthy STEAM approach is to mix good "old-fashioned making" with new and emerging ways of learning STEM content.
"Lumifold is a simple project and although there was a measure of technology input to developing the materials used in the project, the actual Lumifold activities require little technology in their delivery," she said.
"When we run teacher professional development, we have found the making aspect of this project to be akin to a unique social experiment. It is challenging and rewarding, requiring patience and perseverance."
Silk said there are "natural activity emotions" present in almost all learning and teaching situations and it is good for teachers to be rewarded for their efforts – just like their students.
"The learning that results from the making is made more memorable because the end product is joyfully illuminated. It's a lantern," she said.
Future-gazing: Tomorrow's STEAM teachers
So with the STEAM landscape shifting rapidly, what might the role of future STEAM teachers look like?
"Future STEAM teachers look like collaborators," said Silk.
"The skills needed to grow our 21st century learners – collaboration, creativity, critical thinking and communication – are the same skills teachers need to be able to develop in themselves.
"That means allocating paid time for teachers to communicate and collaborate with each other better."
Silk said the Lumifold program provides students with many opportunities to continue the learning back in the classroom.
"Clever teachers discuss the range of applications of a STEAM project like this and work to collectively integrate these ideas into their lesson planning," she said.
"Future STEAM teachers share their skills in order to assuage the fear that many in the profession feel when faced with words like coding, algorithm and computational thinking."
The National STEM School Education Strategy mandates a renewed focus on STEM to ensure "that all young Australians are equipped with the necessary STEM skills and knowledge that they will need to succeed".
To manage this, future STEAM teacher will interact with museums, academics, entrepreneurs and creatives in their communities and beyond, to provide a full STEAM experience for students.
Volunteering important for upskilling teachers
Silk said it is important to acknowledge shared interest in the enhancement of skills and engagement for young Australians in school as well as supporting the upskilling of teachers who learn alongside them.
"Corporate backing or sponsorship allows our innovative educators to focus on developing their projects, instead of the time-consuming process of sourcing funds," she said.
"
Teachers Mutual Bank
's place in the sponsorship environment is well-established, and the bank is known for its support of initiatives that benefit teachers."
Silk added that the expansion of collaborations between corporates and educators promotes "a mutual commitment to innovation and excellence" in teaching, validating the hard work sustained by trying to implement something new and exciting in an education setting.