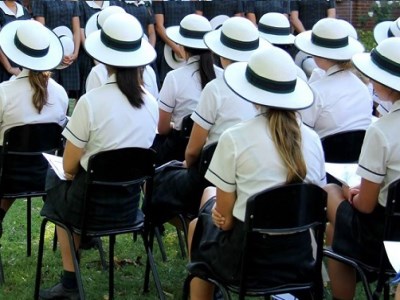 A US psychology professor has claimed there is no evidence that students at single-sex schools learn better than those who attend co-ed schools.
Professor, Diane Halpern – who is the ex-president of the American Psychological Association (APA) – was a keynote speaker at the American Psychological Society conference in Melbourne yesterday.
One of the topics discussed was how single-sex schools could be encouraging gender stereotyping and sexism.
Halpern pointed to hundreds of studies, involving more than one million students, which have failed to find any benefits of single-sex education.
"We don't have sex segregated workplaces so why would we have sex segregated schools?" she asked.
"After graduation, virtually everyone will work for and with females and males - students need to learn mutual respect and the social skills of interacting."
Halpern said students need to learn how to "interact cooperatively and competitively", adding that these were important things that are learned in school.
"School is the only place where certain kinds of interactions occur," she said.
Single-sex schools in decline
Figures show that single-sex schools have been on the decline in Australia, reflecting a growing preference towards co-ed schools by parents.
Murray Guest, principal of The Armidale School (TAS), told
The Educator
why he chose to make his school co-ed after 123 years of being single-sex.
"Clearly opening the gates to the other half of the population will bring the benefits of growth," Guest said.
"These include greater teacher specialisation, wider subject choice, a broader and deeper co-curricular program, new facilities and new support structures for both students and staff.
"Beyond that, our co-curricular program, from drama, debating and music to sports, service and the outdoors, will naturally benefit from co-education."
Schools in a similar situation, such as the Scots School in Bathurst and Geelong Grammar, have become co-ed over the past 30 years in order to cope with dwindling enrolments and finances.
However, the headmistress of one of Britain's most elite boarding schools says that single-sex education is better – at least for teenage girls who she said are spared the pressure of trying to impress boys in a "sexualised world".
"In co-ed environments lots of girls when adolescence kicks want to be liked by boys not just for their intelligence and want to be popular with boys," Rhiannon Wilkinson, head of Wycombe Abbey in Buckinghamshire told
The Telegraph
in 2015.
"In a girls environment you're free from that. Most of the time you're focusing on your education, on who you are, you don't feel you're not being yourself in the classroom, you're not afraid to throw yourself in the sport field."