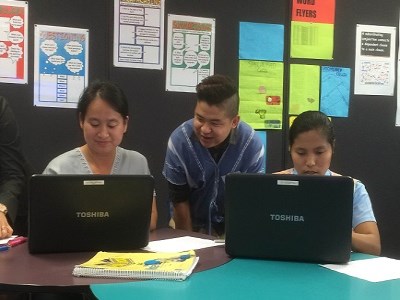 Karen-Burmese refugee Hsar Poe Eh Podee didn't speak a word of English when she moved to Australia with her three children after spending nearly 30 years in a Thai refugee camp.
She had trouble understanding doctors when her kids were sick, helping them with their homework and found seemingly basic tasks - such as making appointments – very difficult.
But after living in Melbourne for five years, Hsar Poe and her children's lives have been transformed for the better thanks to an innovative program at their school.
Laverton College P-12 in Melbourne's west has been providing English lessons to a group of Karen refugee parents to improve outcomes for both themseles and their children.
"It's important for me to learn to speak English for my children," Hsar Poe said.
"For me, I speak Karen, but for them on the playground, they speak Aussie," she said.
The pilot project was launched in order to not only improve communication between parents and the school, but also enhance educational and employment outcomes for students and parents.
"I didn't know English when I arrived in Australia and now that I have attended these language classes I have the confidence to be a part of the community and go to the shops by myself," Hsar Poe said.
Twice a week after dropping her kids off at school Hsar Poe joins 20 other parents in a classroom for two hours to learn specifically tailored language skills and computer basics.
"It's a great class and I enjoy coming here and learning with other Karen women. We practise together and learn from each other," she said.
The initiative is being run by settlement agency AMES Australia, with the organisation's English tutors holding classes at Laverton College.
AMES Australia Education Coordinator Judy Veal said that the school was responsible for setting up the program.
"They approached AMES Australia in response to a need they identified within the Karen community at the school and they provided the venue and the equipment and we provided the teacher to deliver the program," Judy said.
The success of the program is indicative of how it reflects the needs of the community, with both specific English language skills and basic computer knowledge being taught.
"In the English language component we respond to what the students have asked for. For example, recently they wanted help on health, they wanted to understand our health system but they also wanted the language to be able to talk about their symptoms, their children's symptoms, they wanted to know how to make an appointment at the doctor and things like that," she said.
"In our world today, so much of our information and learning is done online and digital literacy or computer literacy is so important.
"Just think how often you go to a computer and now Centrelink is online, making medical appointments, library applications, job applications and just seeking information like how to use the public transport system.
"So to be able to use a computer is very important to their settlement," Judy said.
AMES Australia teacher Anne Wiyono has been teaching the English and computer classes and has been able to see first-hand the impact it's had on the Karen parents' lives.
"Without these skills that we are teaching them, it would be more difficult to keep up with their children, to help with their children's education and to be involved in the community," Anne said.
"They're an incredibly enthusiastic group, really motivated and the great thing is they're willing to work together to help each other, which makes it really easy to teach.
"It's always very satisfying and rewarding work and on top of that the students feel comfortable, they're proud that they are achieving something and that they are participating in their general life."
Laverton College's Principal Richard Jones launched the initiative mid last year after recognising the importance of shared language to enhance the children's education, improve communication from teachers, and expand work opportunities.
"One of the expectations that we have is that kids are able to go home and read to their parents pretty much every night. Now our Karen kids will be able to do that and their parents will be able to understand what they're reading and to be able to connect to maybe the story or the information," Richard said.
"Being a prep to year twelve school we've got the opportunity for kids to be here for twelve years and some families are here for all of that time so we want to build the skills of our children as well as their families and the parents," he said.
After taking up his position at the school early last year Richard came to find that there was a group of parents who were dependent on translators in order to communicate with the school.
"There was a whole group of those parents including the Karen who were not connecting with school in an authentic sort of way," he said.
"So I wanted to make that connection more genuine and language is the key to interaction. We can have translators and we can translate as much information as we want – and we do – our newsletters and other documents are translated into Karen.
"But to build the capacity of those parents and then build the capacity of those parents to get better jobs and then provide better outcomes for their children required some work around English language.
The program started in term three of 2015, and the ongoing attendance and positive response from all parents involved has meant its continuance to now, in term two of the next year.
The English program has been viewed as a way of building connections between ethnic groups within the school and community.
"We do have a large number of Karen families and then we have a large number of Arabic families as well as some Islander families from Samoa, and some North African families," Richard said.
While at the moment the program is taught only to Karen parents at Laverton, its early success suggests it might be rolled out more broadly for not only other ethnic groups but also potentially other schools.
Richard said that ultimately the program was aimed at improving educational and employment opportunities for the whole school community.
"If we are talking about the state average being at one point and our school being somewhere below that we need to be closer to that state average very quickly to enable our students to have better outcomes and be able to get the sort of jobs that other kids are getting, study courses that other kids are able to and have experiences that others have," he said.
The program has meant that many parents, such as Hsar Poe, have been able to help their children learn, connect with their teachers, and embrace their community.
"I feel much more a part of my children's education and learning, now that I can communicate with their teachers," Hsar Poe said.
"This confidence I have now, it's from learning English."