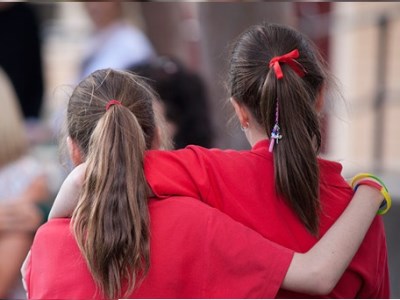 If there's one message that the education system should take from this election and recent world events, it is that the key focus of schooling must be on building quality relationships one with another.
We can throw money at schools. We can improve our teacher/student ratios; put up new buildings and spend money on ever more laptops. But if the quality of our relationships is going backwards, our education will fail our young people.
The way our politicians speak to the people and the effectiveness of our communication has been tested and found wanting during this Australian election campaign.
It also has failed the people of Britain and it is being sorely tested in the US election campaign. Messages have been divisive, inconsistent, lacking in transparency, failing the sincerity test.
The way we communicate with one another is but one measure of the depth of our relationships. The way we demonstrate our care and compassion for one another is reflected in our comments and through our actions.
Our young people model themselves on our leaders. What is it that our young people will have seen in recent times? Ambition, aggression, competition and an almost total absence of humility, forgiveness and kindness are the qualities that young people have highlighted through my discussions with them.
But in schools we reject these former qualities in the development of effective relationships. In many respects, these qualities are the opposite of what we encourage in our pre-schools, primaries and secondaries. Our politicians are doing us no favours.
Yes, of course it is important to have well-resourced schools. Yes, we certainly have to have sufficiently trained teachers to meet the range of needs of all our school communities. There is no argument here.
Politicians everywhere find this an easy line to promote. The funding argument is essentially one of quantum and distribution. It won't go away.
But what we haven't had is a debate about values and standards.
Not mathematics and literacy standards, but the equally, some would argue, more important standards: those of the hidden curriculum – values and issues which address relationships in schools. Those standards that are at the heart of the problems at Aurukun; in meeting the needs of our special schools; the violence confronting public school teachers in Western Australia; the nurturing of terrorist ambitions in some school-aged adolescents; the arrogance and born-to-rule mentality of some graduates of our most prestigious private schools.
I have heard absolutely nothing about these issues.
What do the various parties want of our schools? What standards do the leaders want our young people to form to give structural basis to their relationships? Relationships in the school grounds with their teachers and their school mates, with family and friends, with other communities, in their later business dealings, with the gay neighbour or the refugee who lives next door.
Across the country, there is a need for us to develop a bank of mutually agreed standards that are at the heart of our schooling and thus at the heart of our nation's citizenship.
We all agree that education is the key to a happy and successful life. But what is the core of that education? What is it that we want our future to be?
Our political leaders here and abroad are missing an opportunity to model and to give compelling, transparent and honest leadership to our young people and our schools.
Dr William McKeith is the principal of the Inner Sydney Montessori School and former principal of PLCs Sydney and Armidale and Rissalah College, Lakemba.