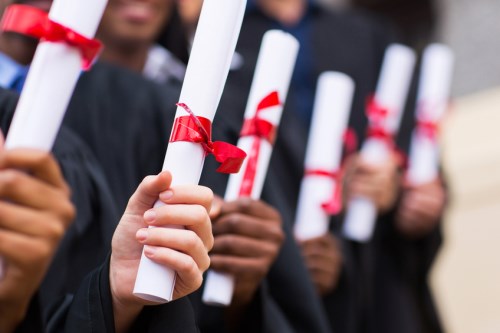 The Fourth Industrial Revolution is upon us, with the demands of a connected, digital world asking different questions of those entering the professional stage of their lives.
Because of this, it might be time to start taking alternative routes to go from learning to earning. Perhaps those looking to enter the workforce are better off completing shorter, specialised courses, potentially online, and putting more valuable time and resources into gaining practical, real-world experience to better prepare for the labour demands of a connected digital economy.
Such consideration begs the question: is the three-year bachelor degree dead?
Representatives from the office of Federal Education Minister, Simon Birmingham, told Courses.com.au about the rise of micro-credentials and massive open online courses (MOOCs), and their impact on education and how learning is changing in the face of the fourth industrial revolution.
The demands of the Fourth Industrial Revolution
Research suggests that more than half of Australian workers will need to be able to use, configure or build digital systems in the next two to three years.
A McKinsey Global Institute report from November 2017 warns that 800 million workers around the world will be replaced by robotic automation and lose their jobs by 2030.
But it's not all doom and gloom.
A Summer 2017 MIT Sloan Management Review study says that AI has a chance to create as many jobs as it takes away. Of course to take full advantage of these opportunities, students and professionals need access to appropriate education.
So how can Australian education institutions adapt?
The Minister's representatives said the rise of MOOCs and learners accessing 'bite-size' knowledge and skills are examples of the impact of this reform and change.
"The AISC [Australia Industry Skills Committee] has established a number of cross-industry projects to address skills needs that are common across multiple industry sectors to improve mobility across occupations and the upskilling and reskilling of workers," the representatives said.
"The AISC is also creating the Industry 4.0 Industry Reference Committee (IRC), which will provide advice on issues such as changes to technology and training system responses to innovations occurring in advanced industrial activity and digital transformation."
However, even before the implementation of this IRC, the Minister's representatives said the Australian Government has installed reforms to help students prepare for the workforce of the future.
"The Government works with state and territory governments and non-government education authorities to ensure the curriculum is aligned to the knowledge, skills and understandings that will enable young people to succeed beyond school," the Minister's representatives said.
The next review of the curriculum is currently slated for 2020.
Are we prepared?
A review of MySkills.gov.au reveals no courses are available in fields such as Artificial Intelligence aside from singular units that are part of IT and Computer Science degrees.
However, private education providers such as Udacity already offer free specialised online courses, which can be completed in just four months, in this field.
AltSchool is a for-profit school started by an ex-Google executive. It aims to provide personalised education to its students by collaborating with educators, engineers, designers and researchers, allowing them to quickly develop new skills and enter the workforce with a greater degree of exposure emerging technologies without committing to higher or tertiary education.
These options reflect just some of the alternatives to the traditional schooling of years past.
Perhaps the answer lies in changing how our bachelor degree courses are delivered to students in terms of course length, study modes and that balance of compulsory and elective units. By offering more flexibility in on-campus requirements and online coursework, students can enter the workforce while studying and being accumulating equally important practical skills and experience.
By including practical experience as part of course units toward a given qualification, in partnership with the private sector by way of internships and work placements, in areas such as programming, big data, cyber security and artificial intelligence, maybe we can prepare the next generation to not only survive, but thrive, in the Fourth Industrial Revolution.