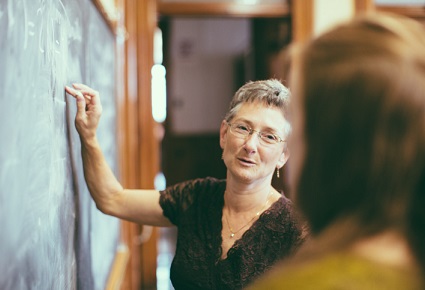 It's not every day Year 9 students get to see and touch F/A-18 Fighter Hornets en masse.
Recently a group of Hunter River High School students from Port Stephens (NSW), accompanied by Australia's Chief Scientist Alan Finkel took up BAE System's invite to do just that.
"We felt so excited. We could have run a marathon" said students Tiane and Gabby.
This is Science, Technology, Engineering and Maths (STEM) teaching in action and it's not a one-off. Hunter River High is one of the early schools piloting the P-TECH, Pathways in Technology, program.
The first US P-TECH school was established by IBM and consortia of education partners in 2011. In Australia, it has the backing of the Australian Federal Government plus key driver the Skilling Australia Foundation. The program builds long-term partnerships between schools, industry and tertiary education institutions.
Actually, it's giving high school students the knowledge and skills to seek out STEM pathways. P-TECH is bridging an oft-quoted supposed dichotomy – the hot debate about what schools should focus on – job-ready skills or knowledge.
We're seeing something of a scramble within schools to get up to speed on STEM to tout it as one of their offerings.
Putting a 'STEM' shingle on a school chicken shed does not make a STEM school – yes we've actually seen that shingle out there. It's not about anointing the newbie enthusiastic teacher as the school's STEM-co-ordinator – a move guaranteed to trigger burnout if not a career change.
We don't need to demean what teachers do in their daily battle of delivering the crowded curriculum while tackling behaviour management issues. It's too crushing for teachers to expect they have STEM expertise as well as pedagogy.
That's what's special about P-TECH, it recognises teachers have teaching expertise and pulls into students' learning experiences the people and companies with cutting-edge expertise in STEM industries.
P-TECH shows how Australia can future-proof our educational models to address jobs that haven't even been invented yet.
The program is not really an add-on to the relatively new(ish) national curriculum; it resides neatly and naturally within it. P-TECH ticks off plenty of cross-curricula and key learning areas with ease and importantly, schools that run the program offer students enormous opportunities to reach their full potential.
There are 14 P-TECH schools across Australia planned with nine of them already open. Industry leaders are also stepping up with 25 employers now signed up.
By offering students a window into the enterprise world of today, P-TECH and the new education model allows students to develop transferable workplace skills and enterprise mindsets.
These are exactly what industry and employers are demanding today and for the future.
The pace of change will continue to accelerate and bring with it opportunities. The future belongs to those who can think differently and take risks in the name of innovation.
Nicholas Wyman
is the CEO of Skilling Australia Foundation (SAF), an Australian not for profit organisation which conducts skills assessments and provides relevant Industry based short courses.
Related stories:
How well are we future-proofing students?
Are P-Tech schools the future of education?
Program helps students build STEM skills