In this article, educational software company AutoMarque explains how to drill deeper into student learning needs, address gaps in learning and improve their effectiveness.
One important issue that the company identifies is that of flawed student thinking, and the challenges that this poses to educators who are doing their best to ensure that what they're teaching is thoroughly understood by their students.
Every teacher experiences a student who fails to reach their potential in assessments, and this often prompts a brief period of reflection where the educator asks: "Is the problem my teaching or is the student a slow learner?"
According to AutoMarque, if you wish to know why students are not reaching their potential in their assessments, it is most helpful if you ask them about the same concept a minimum of four, preferably six times, in different ways.
In preparing for the assessment the teacher allocates descriptors to each segment of understanding as pictured in figures 1 & 4.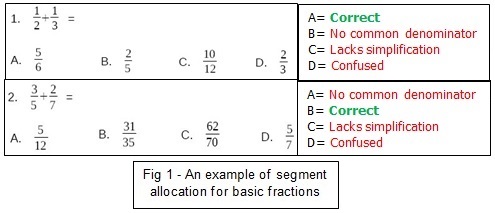 When scanning the students' response sheets on the school photocopier, as a rating scale analysis, the teacher will be able to be so much better informed (Figure 2 & 3) as it provides a direction for the teaching that is to follow.
We can see four questions were asked in each of the four functions. In figure 2 the red bars indicate the areas of the subject, on average, that need attention.
Despite Harry having no success in the test, his responses indicated that he needs to learn simplification, the use of common denominator and how to divide.
Such diagnostics assist teachers to quickly address the areas of learning need across the teaching group.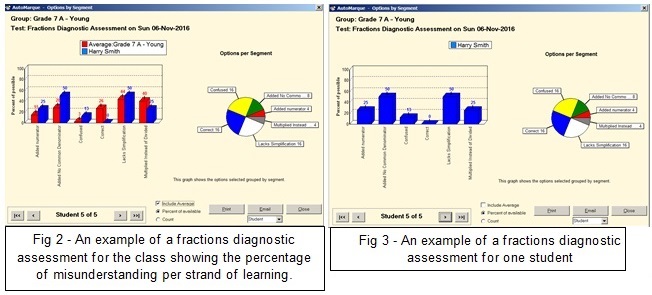 This aspect of AutoMarque is just one of its many capabilities to empower teachers in new ways, to drill down deeper into student learning needs, to address gaps in learning and to improve their effectiveness as both teachers and directors of student achievement.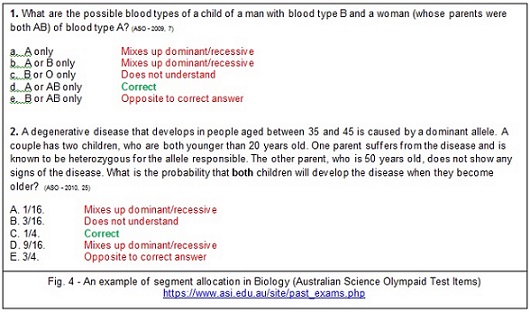 AutoMarque is a software company that offers schools an enhanced user awareness of the quality of their pedagogy and of student learning through quick marking, better monitoring of student learning and effective feedback.