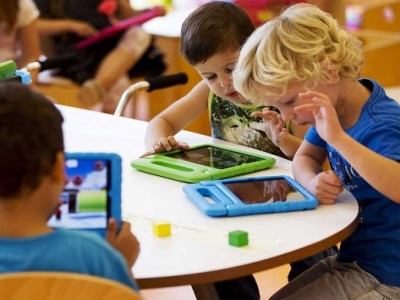 As much as we want to be an advanced technology-powered education nation, many Australian schools continue to cling to traditional teaching methods. However, that's simply not viable in the digital (and global) economy, and often detrimental to students and, in particular, those with special needs.
As noted in March by Stephanie Gotlib, CEO at Children and Young People with a Disability Australia (CYDA), a key barrier for students with disabilities in particular is that teachers lack time, resources and expertise. In many cases, this results in 'peer tutoring' to fill the gap.
But I would say this is an issue faced by all students because ultimately every student is a special needs student ¾ treating anyone as the 'mythical average' is what creates the 'leaky boat' problem of retention/completion that we have today.
Under the traditional model, schools have remedied this issue by reducing class sizes and/or creating integrated environments as opposed to having dedicated 'special needs classes'. This offered a temporary fix, but simultaneously caused headaches around staffing, resources and budgets; therefore, supply and demand remained a challenge.
Rather than playing with ratios, the reality is that schools need to adequately equip educators so they can reach every learner. Today, that starts with technology.
However, it takes more than just giving students laptops. Laptops are just one part of the education experience, and certainly cannot replace the invaluable work of teachers. In fact, the 'give them devices and they will learn' approach has attracted quite a bit of backlash in the past few years, with senior leaders at schools branding laptops a waste of resources and government funding because of the unrealistic expectations that gadgets can be standalone educators.
To capitalise on the digital opportunity, schools need to build wider online learning environments where courses, subjects and modules are specifically designed to develop knowledge and skills in today's context. After all, we need to prepare students with real skills based on competencies.
What underpins these environments is critical. With so much data being generated, educators must also harness the power of analytics to provide complete visibility into performance so that accurate and timely feedback can be provided to maximise outcomes for every learner's special needs.
In doing so, schools can provide a scalable way to systematically remove the most common barriers to learning faced by all individuals.
The outcomes? Every student receives the required level of attention and guidance to maximise their performance; experiences are personalised to optimise time and resources; and performance is tracked closely as part of ongoing evaluation.
Saint Stephen's College (SSC) on the Gold Coast is a case in point. In 2010, Peter West, Director of eLearning at the school, set out to develop a blended learning environment that mixed offline and online learning. Describing the traditional classroom as a 'blunt instrument', he created comprehensive and ever-expanding sets of courses/tutorials that could be personalised for students to make the most of their education experiences.
The transformation is ongoing, with the school having already recorded monumental milestones. Its students are heavily engaged with the environment, with impressive usage rates within and outside school hours reflecting the success of the system. Any time students struggle with a module they quickly receive effective support, while accelerated learners can move ahead to achieve even greater outcomes.
Through this blended learning approach, SSC created an experience where students can learn on their own schedule and at a pace that works for them. Learning isn't restricted to regular school hours or a single curriculum.
This type of learning environment shouldn't end with 12th grade either. Opportunities are aplenty for universities to implement similar yet even more focused approaches to education to effectively prepare learners for their professional careers. This will allow students to transition more easily into the workforce, where organisations can adopt learning environments to ensure ongoing professional development to maximise the skills and productivity of employees. This transition from K-12 to tertiary to employment is all part of 'Lifelong Learning', whereby technology maximises outcomes for learners while allowing them to develop their ePortfolio throughout the journey.
Geoff Thomas is the Vice-President Asia-Pacific at D2L, a recognised innovator in the Learning Management System (LMS) market.