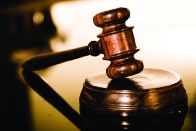 A former teacher has avoided jail despite admitting to filming up the skirts of three teenage students and possessing thousands of indecent images of children.
The Sydney Morning Herald
reports
that Robert Arthur Emmett, who was 36 in 2013, the time the filming took place, talked to the girls while manoeuvring his phone at waist height to film their underwear.
Emmett, who is the son of two judges, was also found in possession of nearly 10,000 images of child pornography including some of the most serious classification.
At the Downing Centre District Court yesterday (Thurs. 10 Sept.) Emmett was told by Judge Ian McClintock that the images that he was found with were "disturbing and depraved" however the early guilty plea and Emmett's recognition of his wrongdoing were mitigating factors in avoiding a jail sentence.
The court was told that Emmett is being treated with medication to lower his libido and the defence team had submitted documentation detailing his psychosexual disorders.
The judge also considered evidence from an expert witness who said that rehabilitation of sexual offenders could be a long process in jail as there is often a long wait for access to therapy, whereas on the outside Emmett would be able to be rehabilitated faster.
The judge sentenced Emmett to two years jail but there would be an Intensive Correction Order which means that he will not be jailed but must continue psychotherapy and be of good behaviour.