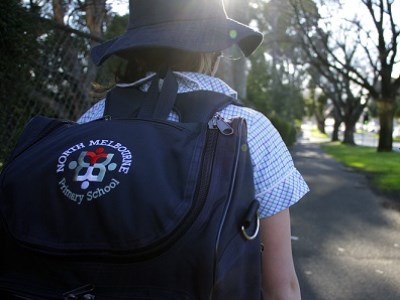 Parents at a Melbourne school claim they are being shut out of after school care as part of a "sneaky new tactic" to reduce high enrolments.
In what has been called the latest symptom of the overcrowding crisis hitting inner-city schools, North Melbourne Primary will next year cap its popular 'Biz-E-Kidz' after school program at 165 students a session, leaving potentially up to 600 children without a spot.
Just 30 of those places will be available to more than 100 preps joining the school in 2017.
Parent, Jo Fallshaw, called the cap "discrimination against working mothers" and said it was designed to put off new families.
The school's overcrowding issues have made headlines in recent months, with reports of preps working in corridors and students writing on the floor.
While children have a right to attend their local government school, a school has no obligation to provide out of hours care.
"It's a bit of a 'get out a jail free card," Fallshaw said.
"This loop hole is being used as a technique to take the pressure off severely overcrowded government schools by restricting demand….When I couldn't get a Biz-E-Kidz place [last year], I had four alternatives: cough up the money for private school education; reduce my working hours; pay for a nanny or leave my young children at home unattended."
Annette Sloan, whose son spent several months on a Biz-E-Kidz waiting list, said the lack of after school care caused significant disruption to her working life.
Her anxiety to secure a 2017 place only increased when a recent newsletter announced the school council was investigating "future enrolment reductions" due to the program's rapid growth.
"To this end, it is highly unlikely that there will be any before or after school spaces available for new NMPS families in 2017," the newsletter read.
One Flemington parent, who did not wish to be named for privacy reasons, said she was told a similar story during an Open day in April and decided against enrolling her child at North Melbourne as a result.
However, principal, Sally Naylor, said the Biz-E-Kidz cap was based on a need to maintain the high quality of the program and not overcrowding concerns, adding that 30 prep places a session translated into 150 spots in total for the cohort each week.
"Our program has successfully met the needs of all families for the last 16 years and, as this year is the greatest intake yet, we have no concerns that our program will have trouble meeting the demands next year either," Naylor said.
Priority of access guidelines, which prioritise children who are at risk of abuse or neglect as well as those from single parent families, would apply to each year level.
Shadow spokesperson for education, Nick Wakeling, said a cap on prep numbers would "naturally" lead parents to assume the school "couldn't cope" with more families. He said the situation was symptomatic of poor government planning for Melbourne's population boom, with 90,000 extra students expected to enter the school system over the next five years.
Though there are 42 new Victorian schools in the pipeline, none are planned as yet for the Docklands or CBD.
"You've got a situation now where the school's having to resort to caps on after school places potentially as a means of dampening supply of new families and, whilst this is going on, the government's twiddling their thumbs about finding a solution for another school," Wakeling said.
Department of Education
spokesperson,
Simon Craig
, said outside school hours care was a matter for schools, school councils and parents, but the Andrews government had now delivered two extra portable buildings to North Melbourne to help ease overcrowding pressures.
"We are also upgrading nearby schools like Carlton Primary School and investing $101.4m to build four new schools to service growing inner-city communities like South Melbourne," Craig said.
North Melbourne school council member, Megan Cusack, who has two children in Biz-E-Kidz, said out of hours care at the school was "a goodwill service" and demand had been greatly exaggerated.
"We've had increased enrolments in the school, we're not denying that," Ms Cusack said.
"But we've got a license for a certain number of children and that's what we can accommodate at this point in time safely so why would you want to jeopardise the care of your children?…Besides, not all parents want to use Biz-E-Kidz."
While child care is subject to much stricter regulations around space and class sizes than the usual school day, Fallshaw said she had calculated North Melbourne has room to accommodate almost twice the current number of Biz-E-Kidz students and could apply to expand its license for 2017.
Several parents at the school also raised safety concerns for children without a Biz-E-Kidz spot walking home alone. Students living in the Docklands and zoned to North Melbourne Primary can face up to an hour and a half journey by foot.
Hayley*, now in her second year at the school, doesn't have a Biz-E-Kidz place. Instead, she crosses six major Melbourne roads every afternoon before letting herself in at home.
Her parents can't afford a nanny available to work the two and a half hours she waits alone on school days and, without access to approved after school care, the family is not eligible for the childcare rebate.
Hayley said the walk itself "can be ok when it's warm" but admitted it gets "quite lonely".
Her mother, who did not wish to be named for security reasons, said knowing Hayley is home alone is a constant source of stress.
"[Hayley] knows not to use the gas, not to open the door," she said.
"She knows I'll pick up the phone no matter who I'm in a meeting with. But it shouldn't be like this….What's the point of encouraging women to get back into the workforce if, five years later when their children start prep, they have to leave their jobs because there is no access to after school care?"
Principal Naylor said that if the school received a large amount of prep applications "all with very high Priority of Access needs", it would likely review the 30 spot cap for 2017.
*Not her real name
This article, and the photo supplied, was submitted by Sherryn Groch, a journalist based in Melbourne who has written for The Age, The Guardian and Australian Teacher Magazine. She tweets at @Sherryn_G