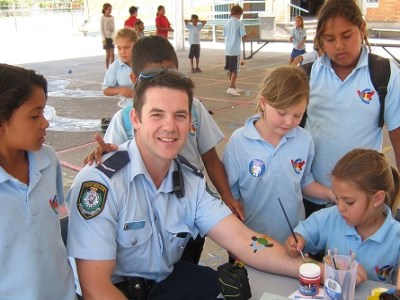 Walgett Community College in northwest NSW will now have police permanently stationed on its grounds as part of a push by the Government to curb violence at the school.
In an agreement between the Education Department and the
Police Citizens Youth Club (PCYC), two officers would be stationed inside the school. The move follows frequent reports of violence against teachers and students.
Education Minister,
Adrian Piccoli
, told
The Daily Telegraph
the police were there to engage with students, not to punish them, and said the school's violent history meant a police presence was needed.
"It's not uncommon for the police and schools to work together," Piccoli said.
"Recently officers have been working with students and staff from Walgett Community College at a PCYC centre in the school. They have access to the school hall before and after school, and during school holidays, and run positive engagement PCYC-related programs during those times."
Piccoli added that the feedback had been "encouraging" and said Walgett was the first school to have police stationed on its grounds.
Police sometimes engage with students at schools which experience violence to build an atmosphere of trust and cooperation.
"It's not uncommon for the police and schools to work together," Piccoli said.
However, Opposition education spokeswoman, Linda Burney, thinks the placement of police on school grounds is a bad idea.
"I do not believe having police present in the school is a good use of police resources, particularly in a community that has the second highest domestic violence rate in NSW," Burney said.
"I think it sends a dreadful message, not only to children at Walgett, but also the Walgett community — that the only way to manage the school is if police are there."
Burney said she backs calls from the
NSW Teachers Federation
(NSWTF) for an independent inquiry into Walgett Community College.