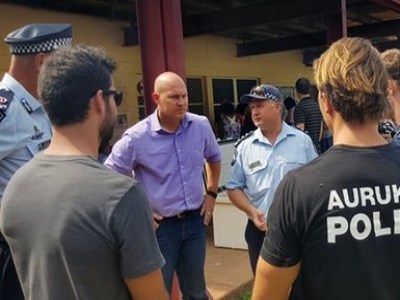 A spate of youth crime in far-north Queensland has forced 25 teachers and staff to evacuate their school over safety concerns.
Nine teachers were flown out of the town of Aurukun last night and 16 more are leaving today, ahead of a community meeting on Friday to address the situation.
Noel
Pearson
, who is the principal of Cape York Academy as well as a respected Indigenous leader, had his car stolen by a group of youths – one armed with an axe.
The incident occurred after the youths allegedly tried to gain access to the home of two female teachers.
They then assaulted the principal who came to their aid and stole his car.
Education Queensland's regional director, Deborah Dunstone, told
ABC News
that the principal went "above and beyond the call of duty" by coming to the teachers' aid after the local police did not immediately respond.
In an effort to prevent further violence, the town's chief executive, Bernie McCarthy, told
ABC News
that CCTV cameras would be installed tomorrow. He added that a community radio program would also be launched to "reinforce messages through local language".
"You know, good feel about the people, what they should be doing for their community, how they can be engaged in work activities, how they can have better health, how they should look after their countrymen, that's the type of message we'd be sending out," he said.
Aurukun, despite being a low socio-economic town, has seen improvements in student attendance and academic outcomes since partnering with Cape York Academy. Through the partnership, the academy operates three state primary schools in Aurukun, Coen and Hope Vale with Education Queensland.
The school will remain closed until Thursday next week.