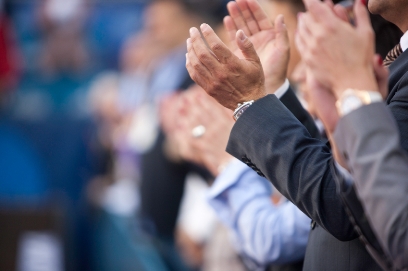 Thirty-seven Australian school leaders have been awarded the prestigious John Laing Award by
Principals Australia Institute
(PAI) at presentations around the country in October and November.
Initiated in 2004, the
John Laing Award
is presented to exceptional school leaders in honour of John Laing, a highly-respected former Tasmanian school principal who was the motivating force behind an initiative in the early 1990s to bring principals together for national professional learning projects and programs to support their role as school leaders.
The award is peer-nominated and awarded to principals of primary and secondary schools across all sectors.
PAI CEO, Paul Geyer, said that the Award is highly respected and sought after, especially as it is peer nominated, and that outstanding school leadership has never been more influential in shaping society.
"We live in a complex, fast-moving world with many pressures and influences on children and it is very important that they receive the appropriate guidance and education to prepare them for their adult lives," explained Geyer.
"The principals recognised by the John Laing Awards exemplify the high standard of leadership that is required and expected of the contemporary school leader."
He added that "great school leadership equates to a great learning experience and inspires both staff and students to be the best they can be".
The following principals received the John Laing Award for their commitment to education and consistent demonstration of outstanding school leadership:
WA
Greg Wyss (St Joseph's Boulder School)
Geoff Harris (Balga Senior High School)
Lisa Helenius (Rapids Landing Primary School)
Suzanne Bursey (St Clare's School, Lathlain)
Wayne Revitt (John Wollaston Anglican School)
NT
Julie Perry (Howard Springs Primary School)
Carolyn Edwards (Henbury School)
Tim Morgan (Karama School)
Sue Healy (Palmerston Senior College)
SA
Angela Falkenberg (Marryatville Primary School)
Paul Rijken (Cardijn College and Marcellin Technical College)
Peter Mader
(President, SA Secondary Principals Association)
ACT
Michael Battenally (Melba Copland Secondary School)
QLD
Trudy Moala (Grace Lutheran Primary School)
Brett Webster
(
Ormiston College
)
Eamon Hannan (Emmaus College)
Richard Graham (Tully State High School)
Dr David Turner (Queensland Association of State School Principals)
VIC
Catherine Misson
(
Melbourne Girls Grammar
)
Cheryl Penberthy (
Presbyterian Ladies College
)
Elisabeth Lenders (Kingswood College)
Jenny Mackay (Dandenong North Primary School)
John Richmond (Birchip P-12 School)
Kathryn Fogarty (Assumption College)
Evan Wrobel (Sacred Heart School, Casterton),
Joshua McElgunn (St Joseph's School, Coleraine) and Angela Kealy (St Malachy's School, Edenhope) – joint nomination
TAS
Brett Youd (East Devonport Primary School)
Kelly Dyer (New Norfolk Primary School)
Mandy Reynolds-Smith (Montrose Bay High School)
Sally Milbourne (Norwood Primary School)
NSW
Christine Del Gallo (Northern Beaches Secondary College, Mackellar Girls Campus)
Jane Donovan (Good Samaritan Catholic College, Hinchinbrook)
Judith Butcher (Ascham School)
Lyn Davis (Umina Beach Public School)
Meredith Tomkins (Our Lady of Good Counsel Catholic School, Forestville)
Stephen Harris (Northern Beaches Christian School and Sydney Centre for Innovation in Learning)
Related stories:
Principals recognised for outstanding leadership
Principals' call to action: help us so we can help you