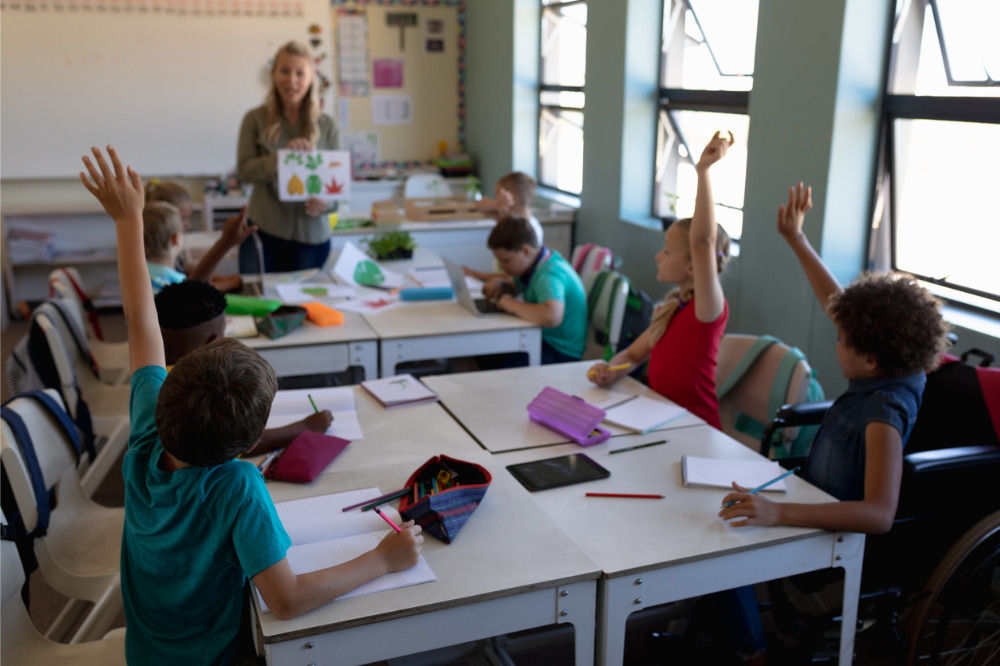 They are Australia's most vulnerable students, but if recent reports are anything to go by, they're facing a tough 2021 unless urgent support is delivered.
According to the Australian Education Union's latest 'State of Our Schools' survey, nine out of ten public school principals report having to access funds from other areas of school budgets to make up for significant shortfalls in Commonwealth funding for students with disability.
According to the survey results, 93% of public primary school principals and 87% of public secondary school principals use funds from other budget areas to cover funding shortfalls for students with disability.
Driving this worrying issue is the fact that more than half (62%) of public schools do not have enough resources to meet the needs of students with disability.
The survey also found that 91% of public school principals said students with disability would benefit from additional classroom support.
The plight of children with a disability in very remote schools was highlighted in the survey, with 68% of public school teachers in these schools saying the needs of students with disability were not being met.
'A damning indictment'
The Australian Education Union (AEU) said these findings are further evidence of the unmet need in school funding for students with disability.
"These survey results are a damning indictment of the Commonwealth's school funding policy settings which have created significant resource shortages within public schools," AEU federal president, Correna Haythorpe, said.
"In 2018 the Commonwealth cut $31 million in funding for students with disability in five states and territories. This is on top of a public school funding shortfall of $19 billion over the next four years."
Haythorpe said the 2020 Federal Budget "completely ignored" public schools and did not address the deep funding inequality that exists between the public and private sector and in particular, for students with disability.
'Very rarely does funding cover what schools need'
In the survey, school principals gave many examples of the real-world consequences of inadequate resourcing for students with disability in public schools:
"I have students who require full-time one-on-one support from a teacher's aide. The funding we receive does not come close to covering that cost," wrote one principal.
Another principal who has an extremely high needs student that requires one-on-one or one-on-two support throughout the day said 15% of staff for this student is funded from other areas "as additional allocations do not cover the support required".
Other school heads pointed to a lack of 1:1 support from assistant teachers, with one saying their school pays an additional $200 000 from its school resource package to support additional teacher assistant hours.
Another principal said their school's access funding for disability students "is only half of what we need".
Haythorpe said that there was an urgent need for the Commonwealth to reverse funding cuts it made to funding for students with disability in 2018, and to revise how loadings for individual student support are calculated.
"For every child to achieve their full potential, Australia's entrenched funding inequality must end," Haythorpe said.
"The Commonwealth must step up and ensure that all students, no matter what their background or level of ability, have the resources and the opportunity to receive a high-quality education".
'We can't return to the previous hierarchical ways'
Dr David Roy, a lecturer at the University of Newcastle's School of Education who works closely with disability advocate groups, said there is some concern that authorities are "once again returning to their default of undercutting schools, students and staff".
"We can't let this happen. The pandemic and its lasting impacts continue," Dr Roy told The Educator.
"Home schooling will increase as some families see possibilities. Schools must retain the flexibility to support those who thrive online".
Dr Roy also highlighted the importance of supporting the students who have struggled the most during the COVID-19 pandemic.
"This will require funding, but key is empathy, understanding and more teachers, with higher pay. If we don't use their expertise, then why have schools," he said.
"2020 demonstrated that delivery of knowledge is not enough. It is the interaction with pedagogical experts – teachers. As soon as teachers engage with individual students or smaller groups, that is differentiation".
Dr Roy said systems need to be accountable and "recognise that educators not bureaucrats should lead the systems".
"There is no new normal. The world has changed so we cannot return to past methods that were already failing," he said.
"With a diversity of students, we need a diversity of education forms".