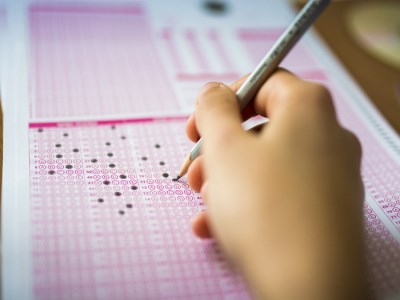 The Australian Government Primary Principals Association (AGPPA) – which represents over 5,300 public schools – has called on the Federal Government to recognise that NAPLAN is only a narrow measure of student success.
"While we acknowledge that NAPLAN is one indicator of performance, it only measures aspects of the total curriculum taught in schools," AGPPA president,
Gabrielle Leigh
, said in a statement.
"Not everything we do in schools is measurable by NAPLAN. Jurisdictions and schools use a variety of evidence based measures to provide feedback to students, families and educators."
Leigh's comments come after it was revealed that there had been
no overall improvement
in the national literacy and numeracy tests since 2015.
She went on to say that while the test ensures that teachers know their students well, it "rarely provides information to teachers that is not already known".
"When we take a holistic view of how students are performing, schools use a range of qualitative evidence to measure important skills, strategies and behaviours of students wider than the narrow focus of literacy and numeracy in NAPLAN," she said.
"Schools also focus on the development of creativity, critical thinking, application of problem solving skills and personal attributes which are needed to develop a future workforce."
In a statement following the release of the preliminary NAPLAN results, Birmingham said that Australian schools should "focus on evidence-based measures" and slammed the notion that increased funding leads to better outcomes.
"We need to focus on evidence based measures that will get results for our students because today's results once again show that, despite significant funding growth, we are not getting sufficient improvements in student outcomes," he said.
Leigh agreed, saying in her statement today that AGPPA has not seen increased funding translate to instant increases in student outcomes.
"[AGPPA] calls on Government to allow time to monitor how increased funding levels take effect," she said, adding that AGPPA will seek a meeting with Minister Birmingham to "further clarify the Government's commitment to continued and increased Federal funding allocated based on student learning needs".
Meanwhile, the Learning Sciences Institute Australia (LSIA) announced today that it is partnering with Queensland's Education Department under a research grant scheme to examine how to improve writing.
"The increasing number of students falling below the National Minimum Benchmark in writing is a significant problem in all Australian states and territories," LSIA director, professor Claire Wyatt-Smith, said in a statement.
"Tackling this is critical to halt the impact of poor writing skills for future schooling success and subsequent workforce opportunities."
The LSIA team of leading international scholars with expertise in literacy and assessment will undertake a one-year project that uses NAPLAN data from 20 schools in up to four Queensland regions.
With the support of the Department, schools that show upward trending results in writing will be invited to participate.