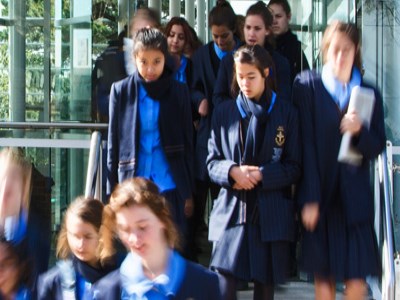 Denice Scala, the principal of private Sydney girls' school, MLC School in Sydney's inner west, is under pressure to quit following a rebellion against her leadership.
In the last two years, the school has seen the resignation of four heads of its junior, middle and senior schools. This week, a further 30 staff will leave, including senior teachers in the maths, art and music departments and two of its Uniting Church chaplains.
Parents have joined the protest, adopting the hashtag #ReclaimOurMLC on social media. In an email to parents obtained by
Fairfax Media
, Scala acknowledged their concern about the changes within the school.
"This is always a time of year with heightened emotion and I am very conscious that as parents who care about the school you are worried about staff turnover," she wrote.
"[The numbers are] consistent with other independent schools and an important part of renewal."
Anger over Scala's leadership mounted after a family who had run the school's canteen for 15 years had their contract cancelled, sparking a petition by up to 100 students who had described the family as "the beating heart of the school".
The petition was later taken down from the change.org website.
In 2013, the shock resignation of the world-renowned head of the music department, Karen Carey, made headlines after it was claimed she left due to being repeatedly criticised and threatened with dismissal.
"Her colleagues believe the principal's official misconduct warning – after 24 years of outstanding and blameless service – finally convinced her she had no future at the school," Bob Connolly, director of hit documentary,
Mrs Carey's Concert told The Sydney Morning Herald.
Online reviews of the school have been flooded with parents' and students' complaints in recent weeks, with parents asking what their options are to un-enrol their children and move them to nearby schools, Santa Sabina and
Presbyterian Ladies College
(PLC).
The school is the second all-girls private school run by the Uniting Church to come under fire this week, after Sarah Haynes, the captain of Ravenswood on Sydney's north-shore, aired her concerns about the school's business model.
A spokeswoman for the Uniting Church said that the church believed that the School Councils at both institutions were exercising their governance responsibilities.
"The Uniting Church remains confident that MLC School and Ravenswood School for Girls are continuing to practice Uniting Church values and ethos, and offer strong pastoral support for students in their care," the spokeswoman said.