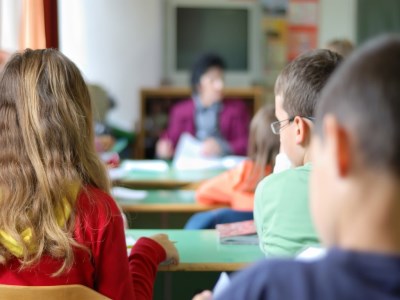 Reports show one-in-seven primary school students, and one-in-four secondary students, have significant psychological problems.
While schools are doing their best to improve students' mental health, the missing piece for many schools is often parent education.
That's the view of renowned child psychologist, Dr Michael Carr-Gregg, who is working alongside NAB, which has just released its Independent Schools Well-being Survey 2017.
NAB Economics recently engaged with 90 independent schools across Australia to assess the well-being of their students.
Questions included how well they were coping with anxieties and the prevalence of well-being programs within the school system.
Students' well-being was based on the four key measures which NAB also uses to measure personal well-being among Australians in its quarterly report on the same topic.
According to the findings of the latest survey, conflict in the family home, bullying and popularity emerged as key issues facing students.
Overall, independent schools believe their students are coping only "moderately" well with their anxiety, however, primary school students – both boys and girls – are coping much better than secondary students.
The NAB survey showed that the biggest negative impact to student well-being related to family conflict or breakdown, scoring 8.4 out of 10 (where 10 is "very strong negative impact").
Bullying (7.0) was next, followed by the health of loved ones (6.5), a student's popularity (6.4), their friends (6.4) and peer pressures (6.4)
To help raise awareness of the importance of well-being among school students NAB is working with organisations such as SchoolTV, a world-first wellbeing platform featuring leading adolescent psychologist, Dr Michael Carr-Gregg.
Dr Carr-Gregg said that SchoolTV allows schools to use technology to reach parents in a way that overcomes geographic and temporal barriers.
"It provides them with world class information delivered by Australia's foremost experts in the field of child and adolescent mental health. It is an essential component of any school's wellbeing plan," he said.
Dean Pearson, NAB's head of behavioural & industry economics, said the bank's report helps isolate some of the causes of anxiety so that schools can help remediate that problem.
"We know that well-being and anxiety is an issue for primary and secondary students and it makes sense that around 9 in 10 independent schools have a well-being program in place," Pearson said.
"This is not only an issue for Australian schools; it's a societal issue as well. Helping improve student wellbeing will have benefits for society, not just for schools, students and parents."