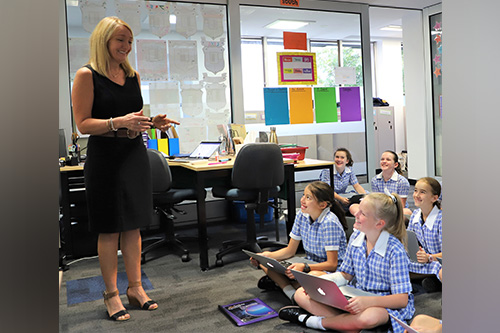 by Annie Shannon
By definition 'Emotional Intelligence' refers to 'the capacity to be aware of, control, and express one's emotions, and to handle interpersonal relationships judiciously and empathetically.'
At Strathcona Girls Grammar School, Emotional Intelligence is at the core of our classroom teaching and is particularly highlighted throughout our Year 5 program.
As a Year 5 teacher at Strathcona, myself and my colleague Eliza Nolan have had the pleasure of seeing students develop both personally and academically over the past 15 years of my career. Year 5 is a critical year for our students as they are at an age where they're beginning to transition to teenagers.
They are constantly learning new behaviours and this transfers into their emotions and how they perceive the world around them. It is crucial that we teach these skills in this developmental stage, to ensure that our students are prepared for the transition from primary to high school education.
Year 5 is a key enrolment intake year at Strathcona, with the purpose of easing the two-year journey for our current and new students as they enter their high school years. In recent times, Strathcona has developed a program titled 'Social Tuesdays' which focuses on the basic social skills our Year 5 students experience during the pivotal ages of 10-11 years old.
According to Dr Laura Belsten, founder of the Institute for Social and Emotional Intelligence in Denver, Colorado, emotional intelligence is all about self-awareness, self-management, people awareness and relationship management. This is exactly what we are teaching our Year 5 students in the 'Social Tuesdays' program, as students are placed in small groups of four comprising of two new students who are in their first year at Strathcona and two current students. We also combine different personality types and the students conduct a range of team building tasks inside and beyond the classroom, under the supervision of myself and Eliza.
Our students participate in a range of team building activities in their allocated groups to ensure that extroverted and introverted students interact, learn from each other, and ultimately build an emotional toolkit of skills such as resilience and problem solving.
At the start of the school year, there are introverted students who may be too shy to put their hand up and participate in activities, and there are students who are very energetic and outgoing, who love to give everything a go. After a term of the 'Social Tuesdays' program, the positive development of students social skills in evident. As a teacher, it is incredibly rewarding to see the emotional growth and self-awareness amongst the majority of students.
Feedback from Marise McConaghy, principal at Strathcona Girls Grammar about the program has been outstanding.
"Our Social Tuesdays program has continued to empower our Year 5 girls. We aim to educate and prepare our girls to springboard into the world beyond from a strong intellectual platform," McConaghy said.
"We do our best to prepare them to be active participants in discussion and to share ideas in various settings and in a variety of modes."
By working in allocated teams, our students learn to discuss their thoughts in a respectful and appropriate way. This ensures when they encounter social issues during and beyond their schooling life, they can engage their existing resilience and problem-solving skills.
Social Tuesdays provides a nurturing classroom environment. Our perspective is that all students are open to having an opinion, and even if they are nervous, their contribution is highly valued. As a result of our focus on Emotional Intelligence through Social Tuesdays, we have also observed our students as a group are more cohesive and there has been a significant increase in collaboration.
It is unbelievably satisfying to teach Year 5 at Strathcona Girls Grammar and to see our students flourish, not only throughout the year, but their whole school journey.
Annie Shannon is a Year 5 Teacher at Strathcona Girls Grammar School in Melbourne.