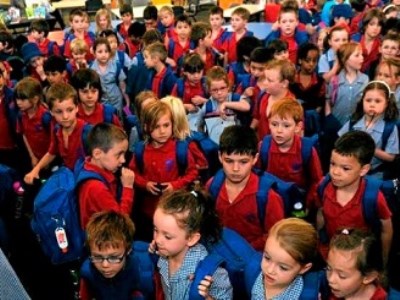 NSW public schools are so stretched beyond capacity that the state's shadow education minister has likened them to chook farms.
More than a third of the state's schools are full and 180 are over capacity, documents obtained under freedom-of-information laws and revealed at a budget estimates meeting yesterday show.
Shadow Education Minister and former school principal, Jihad Dib, said the situation had now become a crisis as schools were running out of space to hold normal lessons.
"It's a huge amount of pressure on schools and teachers are being forced to find spaces outside of classrooms," Dib told
The Daily Telegraph
.
Dib pointed to over-capacity schools in regional areas being the worst affected as their students have to travel long distances to alternative schools.
However, NSW Education Minister,
Adrian Piccoli
, denied that schoolchildren were crammed like "battery hens".
"We have announced in this year's budget an investment of an additional billion dollars [in the school system]," Piccoli said in the budget estimates hearing.
He added the government was taking measures to address the issues in the report and that "several things had happened since then, including the state budget".
Principals at schools operating at more than 100% capacity had generally decided to keep students within existing buildings rather than building new demountables, the department said.
The 10 most crowded schools in NSW
1 Wiripaang Public School (Newcastle) 220%
2 Glenquarry Public School (Southern Highlands) 200%
3 Kapooka Public School (Wagga Wagga) 200%
4 Bowning Public School (Yass) 200%
5 Wattle Flat Public School (Bathurst) 200%
6 Cullen Bullen Public School (Lithgow) 200%
7 Mowbray Public School (Willoughby) 180%
8 Orange Grove Public School (Lilyfield) 164%
9 Wilton Public School (Picton) 155%
10 Bedgerebong Public School (Forbes) 150%
The 10 most crowded schools in Sydney
1 Orange Grove Public School 164%
2 Bourke Street Public School (Surry Hills) 145%
3 Bondi Public School 141%
4 Yeo Park Infants School (Ashfield) 133%
5 Australia Street Infants School (Newtown) 133%
6 Annangrove Public School 133%
7 Maroubra Bay Public School 130%
8 Vaucluse Public School 129%
9 Woollahra Public School 124%
10 Darlinghurst Public School 118%