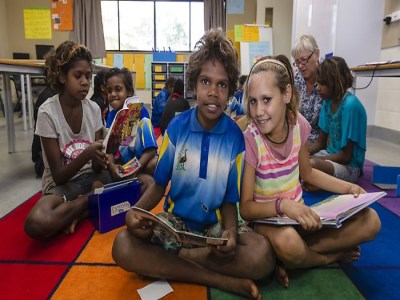 Remote schools are among those feeling most left out and isolated (literally), but help is on the way.
Education Minister Christopher Pyne has announced that 34 remote schools will receive extra support to teach foundational literacy skills in 2015.
The assistance is part of the Flexible Literacy for Remote Primary Schools Program, aimed at improving literacy results for children in remote primary schools.
Minister Pyne said that the program will introduce two teaching approaches - Direct Instruction and Explicit Direct Instruction, which will commence at the start of the 2015 school year.
"These approaches have proven successful in early pilots and will expand the reach of Direct Instruction and Explicit Direct Instruction to other remote schools that have struggled to achieve minimum national standards for many of their students," Minister Pyne said.
"We know that Direct Instruction and Explicit Direct Instruction teaching methods work. Teachers in these remote primary schools will receive professional development and support to gain the specific knowledge and skills they need to use these approaches with their students.
"I commend these schools and their commitment to improving literacy outcomes and I look forward to hearing about their progress and achievements."
The program will be managed by Good to Great Schools Australia and is part of the Government's Students First approach. The Government has said it will work with the states and territories on four key areas that they say will 'make a difference to students'.
The areas of focus will be teacher quality, school autonomy, parental engagement and strengthening the curriculum.